Shopping Cart
Your Cart is Empty
Thank you for your business!
You should be receiving an order confirmation from Paypal shortly.
Exit Shopping Cart
This filly was GFS Lord of the Dance's second foal and we could not have wished for more! A beautifully marked cremello with perfect conformation, an absolutely fantastic character coupled with super movement and athletic scope.
This two year old has a very quick mind and demonstrates a bold, unflappable nature. She is a lovely youngster to handle and is mannerly to catch, lead, groom, trim, worm and stands well for rugging. She is vice free and as relaxed in the stable as out in the field.
Millie is very friendly and sociable. We had planned on retaining her as she would be a very valuable broodmare as well as having all the characteristics indicative of her potentially really exciting riden prospect. Despite the temptation to retain her due to her pedigree as well as the desirable attributes we rely on to maintain the quality of our breeding program, at this stage we feel she would be wasted as a potential broodmare as she is showing herself to have both impressive movement and an unbeatable attitude.
She is a born galloper, a quick learner and really rather special in every other facet of equine quality! This little dynamo really is built for speed, strength and she is fearless! We would very much like to see her out eventing in time and as such have no interest in selling her for breeding purposes!
A little about her breeding
Millie's dam GFS Golden Willow is a very correct and beautiful young mare is by the highly talented Equus Kinsky jumping stallion, Vangelis. Sadly he ws a horse who passed away to young. However, during a brief competition career that spanned a mere six months, he accumulated 92 points jumping double clear every time from a starting point of 1.10m which swiftly reached 1.30m! A rare talent. Willow is also built like a true jumping horse, hugely powerful physique with strong well muscled hindquarters and a strong well angled shoulder, short coupled and an impressive turn of foot.
Willows dam is by Farney Clover/Clover Hill; a legendary Irish stallion who was a progenitor of horses that attained meteoric success in all three main disciplines with over 90 show jumpers of note. Her dam sire; Errigal Flight, a noted sire of both eventers and show jumpers was by the other famed Irish stallion and sire of phenomenally successful competition offspring, King of Diamonds!
A hugely exciting combination of the best of the versatile, athletic Kinsky warmblood and the very best of the powerful, lion hearted and incredible versatile Irish Sporthorse as well as an amalgamation of two breeds most noted for their amazing temperaments and willingness under saddle.
Her sire - GFS Lord of the Dance
GFS Lord of The Dance, or otherwise known as Django is a breathtakingly beautiful young stallion, tall, intelligent, kind, willing and a young horse who displays an abundance of natural athletic ability and presence. He is fast and eager to learn, sociable and sensible. This young horse stands out from the crowd with his grace and exceptional good looks. He stands at 16.3hh and a proven sire now of six absolutely perfect, purpose bred for eventing offspring.
We bred Django using our imported Akhal Teke x Russian Trakehner stallion, Destello over a superb TB x Hanoverian mare and dam of two other Licensed stallions. He carried more than enough blood type in his pedigree to make really fast, tough eventers with stamina and bravery and in Django we feel that he produced that very type of horse with the added grace of movement that makes him a good sire of dressage prospects too.
He is Registered, Graded and Licensed with the Anglo European Studbook
RECENT PHOTOS TO FOLLOW AS THEY BECOME AVAILABLE, VIDEO TOO AS WE FIND THE TIME.
A small video of GFS Millie Vanilli 27yh April 2019
Click Here to Add a Title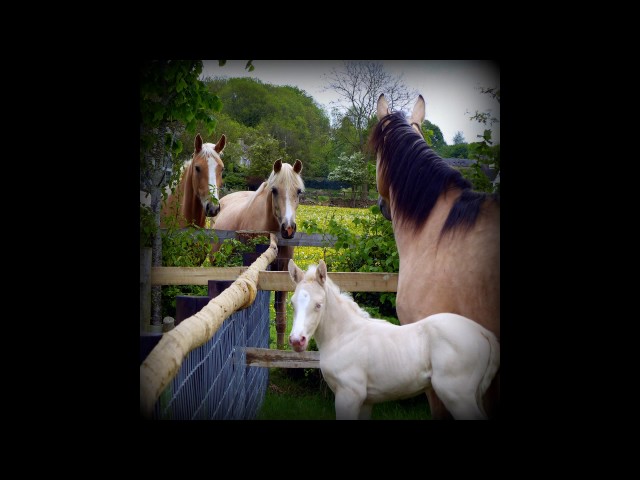 /