Shopping Cart
Your Cart is Empty
Thank you for your business!
You should be receiving an order confirmation from Paypal shortly.
Exit Shopping Cart
What a wonderful surprise this pairing turned out to be! GFS Lord of the Dance and the Trakehner stallion Camaro's daughter; Charisma's first foal. An absolutely incredible double dilute tobiano patterned colt! Bred with high percentage Trakehner/Kinsky warmblood and then enhanced with Akhal Teke, Russian Trakehner and thoroughbred. This colt should have all the speed, stamina and agility for a phenomenally exciting career eventing and as he is almost certainly of stallion potential I foresee a dual career ahead for this particularly impressive young horse.
I have been utterly thrilled with the quality of this colt. Physical perfection, he moves with tremendous grace; powerful yet light on his feet, very agile, fast and balanced. He is very quick to learn and is bold and brave. A lovely looking colt and definitely one I look forward to seeing out competing in the future!
To make 16.2hh +
A little about his pedigree
Mikado is something of a rarity in the world of modern sporthorses. His warmblood ancestry is quite as exotic as this uniquely coloured and marked double dilute yearling colt.
Sired by one of my junior stallions GFS Lord of the Dance, this young AES Graded four year old is homebred and by my Estonian imported stallion Destello who was an Akhal Teke x Russian Trakehner stallion of rare and proven performance bloodlines, unique to British breeding. There is a full history and details of this on Destello's own page as well as that of GFS Lord of the Dance.
This young stallions dam was over 62% thoroughbred and sired by the eventing stallion Malibu Galileo.
Mikado's dam is Westfalian registered by the Elite advanced eventer and showjumper, Approved Trakehner stallion Camaro. A stallion who is the most successful coloured Trakehner to date. With many placings up to M in eventing and showjumping in Europe he has also participated and placed twice at the German Bundeschampionate. His Grandsire Le Duc was reserve Champion winner of his own performance test with scores of 10 for character and solid 9's in other scores. He competed successfully to S level in dressage with a performance index of 146 points.
Mikado's dam sire is the rare breed Kinsky warmblood showjumping stallion stallion Hurikan. This mare is one of the few pure bred Kinsky warmbloods. A breed prized throughout history for their enormous versatility, athletic prowess, speed, stamina and fierce loyalty. The Kinsky breed, steeped in historic folklore have competed in everything from steeplechasing, endurance, eventing, showjumping, dressage and are renowned for their keen intelligence, willingness to work and faultless temperaments.
Mikado is just a yearling, a particularly unfortunate age physically in terms of physical beauty and visual harmony but already he stands tall and proud, gradually maturing and morphing into a remarkable young horse. Tall with lovely limbs, a powerful build and regal presence, he carries himself well and moves nicely with a loose, swinging walk, expressive trot and ground covering canter and gallop of a born eventer. He combines the perfect mix of bloodlines, with his exotic russian performance infusion to the sheer quality of the Trakehner producing additional refinement and extreme athleticism.
Mikado is a super character. He is a typical yearling colt in his behaviour but is incredibly sweet natured and willing to please. He displays a keen intelligence and a genuine attitude as he learns, picking up what is asked of him quickly and without resistance. He is sensible to handle, easy to catch, good with the farrier and simply loves attention.
I feel strongly that this colt is going to be a genuinely exciting prospect to produce with the aim of progressing him up the eventing ladder and also as a quality future stallion who would produce exceptionally good offspring with the added 'sparkle' and colour that his colour genetics guarantee!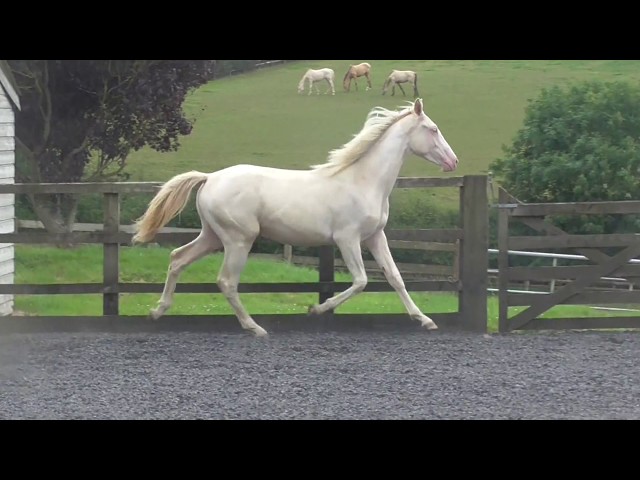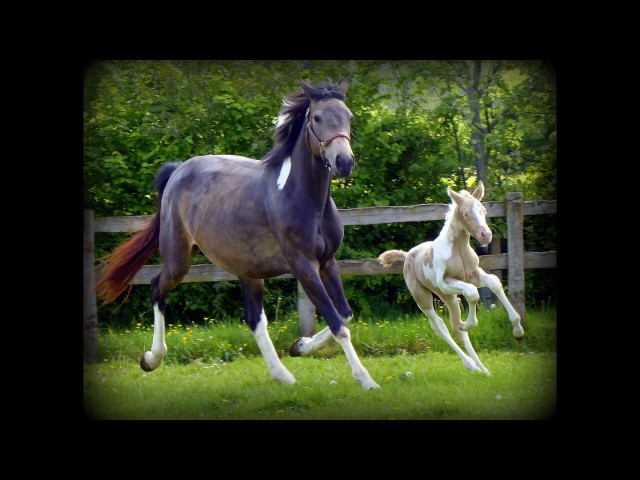 /