Shopping Cart
Your Cart is Empty
Thank you for your business!
You should be receiving an order confirmation from Paypal shortly.
Exit Shopping Cart
These foals have been bred with absolute passion and pride. They are products of careful planning, absolute attention to every detail and allowed every developmental opportunity to thrive and become the best they can be from conception.
We use carefully chosen mares of great qualities with exceptional temperaments to enhance the very special attributes of our home-bred and AES Graded stallions whom we have bred and produced with the same love and care.
Our farrier visits from three weeks of age and at regular intervals to ensure that they are correctly balanced at all stages of their rapid growth, we have a stringent worming program and each foals growth and well being is monitored religiously.
Our foals are well handled, trusting and age appropriately trained in hand for routine procedures.
We are blessed with large rolling paddocks where our young horses enjoy enormous freedom to roam over the varied terrain gaining confidence, strength and balance over the Devon hills. They spend their formative months with other foals and their dams living and learning together at rest and play. We cannot guarantee to breed a superstar every time but we can promise that a GFS foal will have the best start in life, be a genuine, versatile performer and be blessed with a temperament that is invaluable and who knows...with time and the right partnership a star may well have be born too! We know our horses, their background and their ancestry inside and out, we often have or have owned both their parents, grandparents and have experience of siblings full or of half parentage, there is nothing random about our breeding program and the consistent quality and temperaments of our horses speak for themselves.
What a fabulous start to the GFS 2019 Foaling Season!
This striking and uniquely marked colt is absolutely heavenly. Beautifully straight, with impressive conformation and the prettiest of heads. I think it would be fair to say with his pedigree and promise, this is going to be an incredibly special young colt!
Photos from birth to three weeks old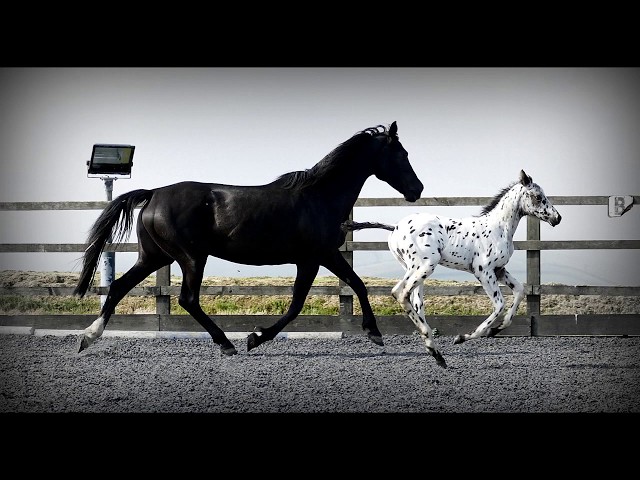 'Graffiti' at three weeks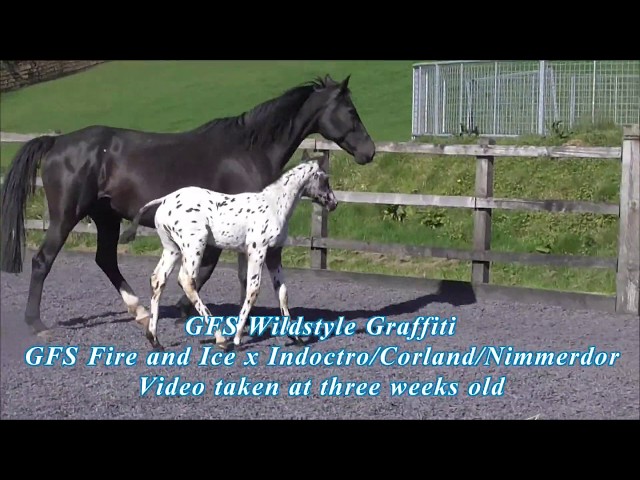 Click Here to Add a Title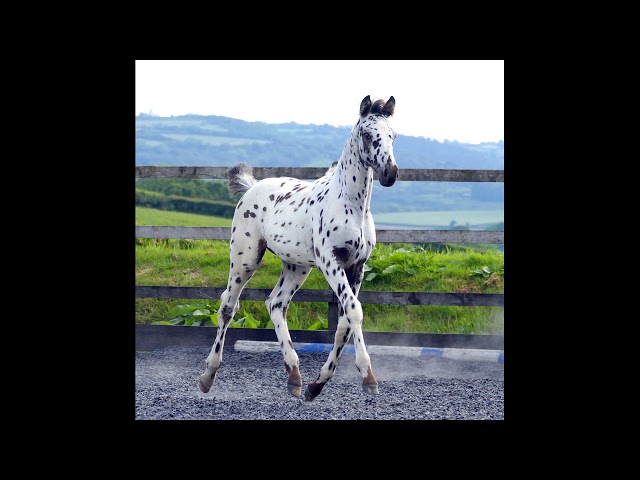 Two in one day! I am delighted to announce the arrival of this tall, elegant and very correct golden buckskin filly. By GFS Lord of the Dance and out of It's Magic, our rather wonderful Graded Westfalian ex-showjumping mare.
This little lady has a big future ahead of her in any sphere and is already winning our hearts with her big, bold character and easy going charm.
Photos from birth to three weeks old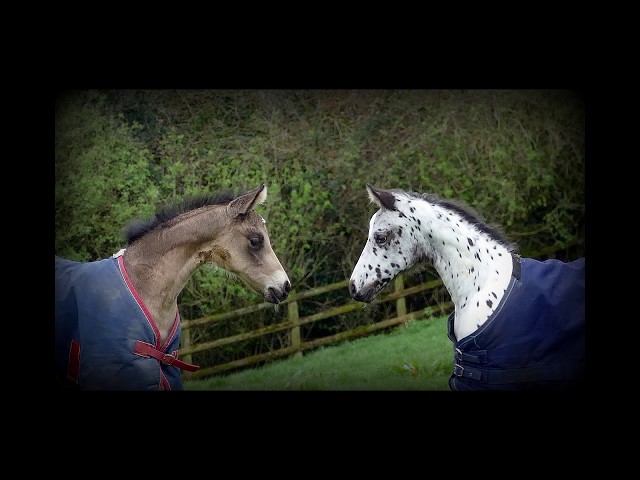 GFS Lolapalooza at three weeks old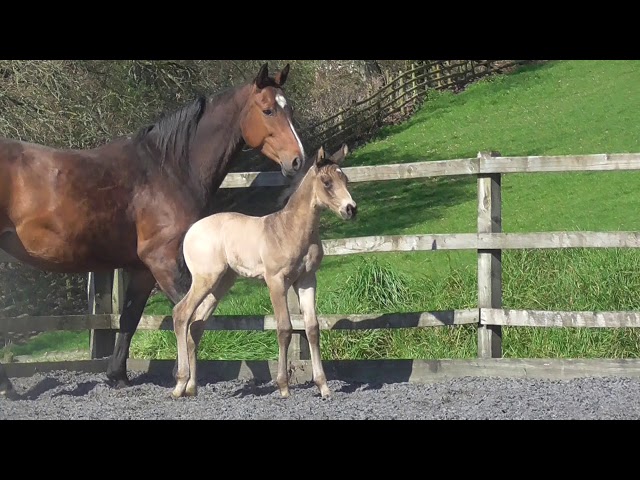 Click Here to Add a Title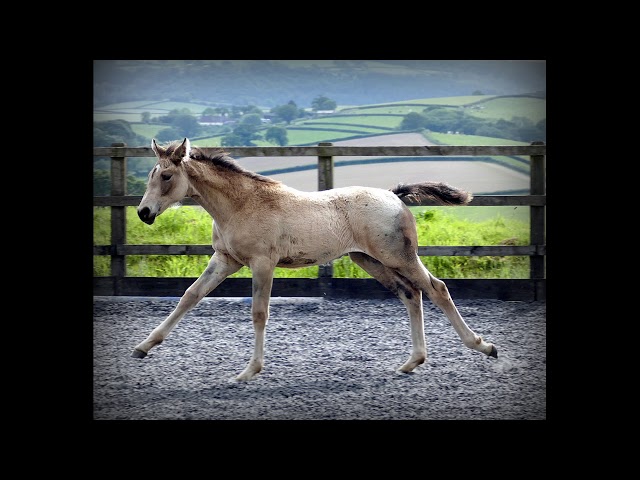 GFS Sugar and Spice

25th March 2019

GFS Fire and Ice x Treliver Delphine (Treliver Decanter/Dimaggio x Salieri/Donnerhall)

Palomino Blanket Spot Filly

To make 17+hh (approx)

Available at weaning or with her dam who is returned in foal to GFS Fire and Ice for 2020

https://sporthorse-data.com/pedigree/gfs-sugar-and-spice


£6000

SOLD - Florida USA!



GFS Sugar and Spice, a very deep golden palomino blanket spot filly. These photos were all taken within her first 24 hours of life!
She is already winning hearts with her calm and curious character, she is very friendly and such a lovely relaxed foal.
As with most of the Fire and Ice offspring, she has a wonderful trot and her paces look to be uphill and with a pleasing natural cadence and balance.
By GFS Fire and Ice (Colourthyme Kajika/Rock King/Bohemond) and out of Treliver Delphine who is by the Grand Prix Elite dressage stallion Treliver Decanter, who is in turn by the illustrious Dimaggio.
Delphi's dam lines are no less impressive as her sire, Salieri is a show jumping International and her dam sire none other than the Elite dressage stallion and sire of over 100 top dressage offspring, Donnerhall!
Needless to say, we are absolutely thrilled with this filly who is big, bold a wonderful little mover and personality plus!
Photo's from birth to three days old
GFS Sugar and Spice's First week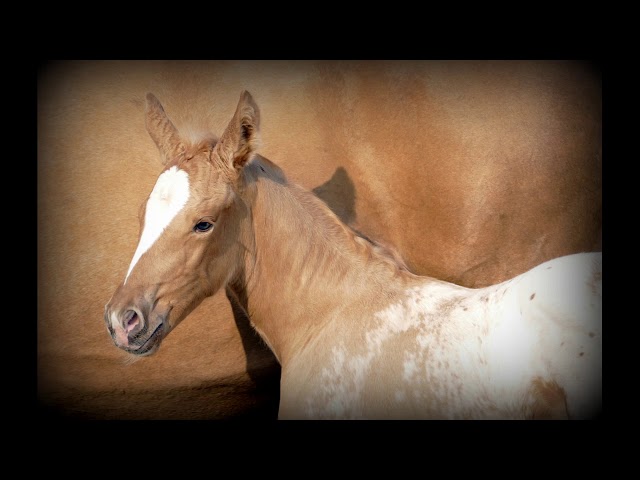 Click Here to Add a Title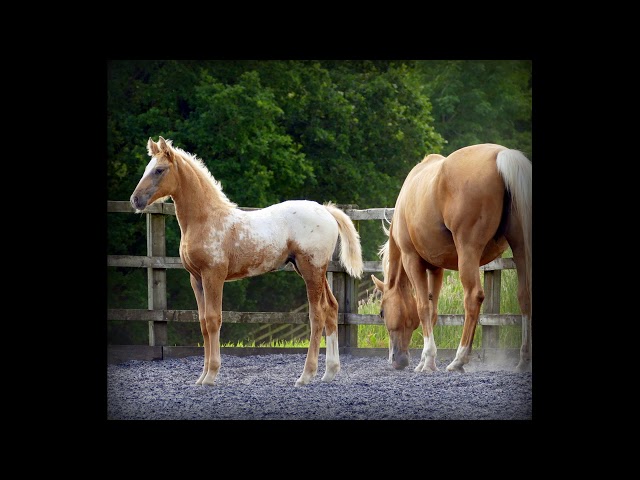 Sometimes they are just born special and raring to go! From her lightening quick arrival, this sensational filly was up and feeding within half an hour and cavorting around the stable like she owned it within a couple of hours!
She is a very tall and correct (to make 16.3hh approx) and very much the model of a modern sporthorse. She is wonderfully agile, fast and already turns on a sixpence with incredible balance and poise. She is bold, apparently fearless and a very independent character whose natural curiosity makes her a very friendly and outgoing individual. Her paces are expressive with a great walk, big elastic trot and the gallop of a born eventer.
By GFS Lord of the Dance, our young five year old AES Graded stallion carrying superb Russian Trakehner, Akhal Teke and thoroughbred breeding. He is currently being carefully prepared under saddle and proving both willing and talented.
This filly's damsire is Camaro one of only two Elite coloured Trakehner stallions. Twice a Young Horse Championship qualifier for the German Bundeschampionate. He is both an advanced eventer and show jumper. His sire, Le Duc was Reserve Champion winner at his performance test with unprecedented scores of 10 for character, efficiency of movement and trot. He scored a 9 in all other categories. A Grand Prix dressage stallion with a performance index of 146, his dam was a consistent producer of Performance Test winners.
Her G.Grandsire, Anduc, a son of number one Trakehner stallion in the World, Marduc was another Elite stallion renowned for producing progeny of outstanding temperament and rideability.
This filly despite her unique double dilute bloodlines will be for sale but not to a breeding home as a broodmare, she is bred to event and would be wasted if she missed the opportunity to prove herself. She was so obviously such a born athlete with a brilliant brain from day one and just keeps getting better and better as she matures!
Here's what we've been working on
Photos from birth up to three days
GFS White Mischief - Her First Three Days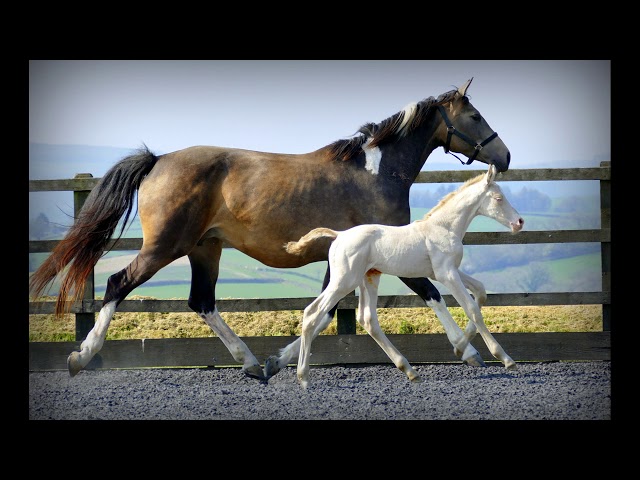 Click Here to Add a Title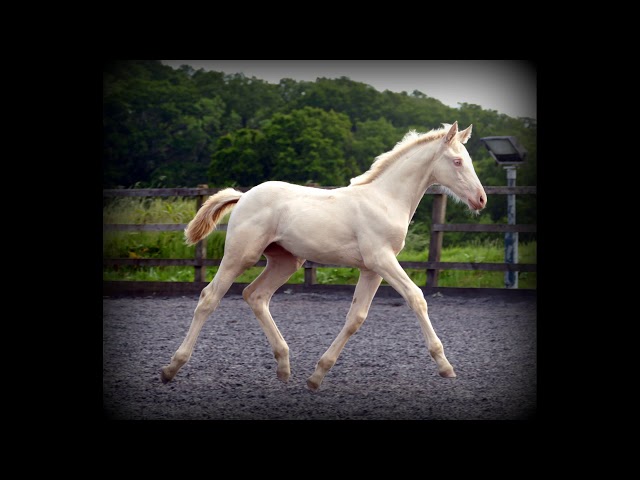 GFS Perdita

3rd April 2019

GFS Lord of the Dance x Deihaiwejo

(Al Pacino W/Andiamo Z x Julio Mariner/Enrico)

Palomino Filly

To make 17hh (approx)

RESERVED
We are delighted with the arrival of this tall, correct and very beautiful palomino filly. Information to come...
Another spectacularly beautiful arrival. This exquisite, compact and long legged filly has all of the breeding to make a superb eventer or for producing for the dressage arena. One thing is certain she is going to be the star of the show wherever she goes with her looks and flashy turn of foot!
Sahara her dam is a tall, elegant and athletic filly by the Elite Grand Prix dressage stallion Treliver Decanter. She has her sires deep golden coat and beautiful head.
Her dam Ambrosia is an Elite Graded SH(GB) mare by the Saddlers Wells bred stallion and prolific sire of top eventing horses, Accondy. Her maternal sire is World Cup I, a Grand Prix dressage horse and sire of many top dressage offspring.
Here's what we've been working on
GFS Zahara's First Three Days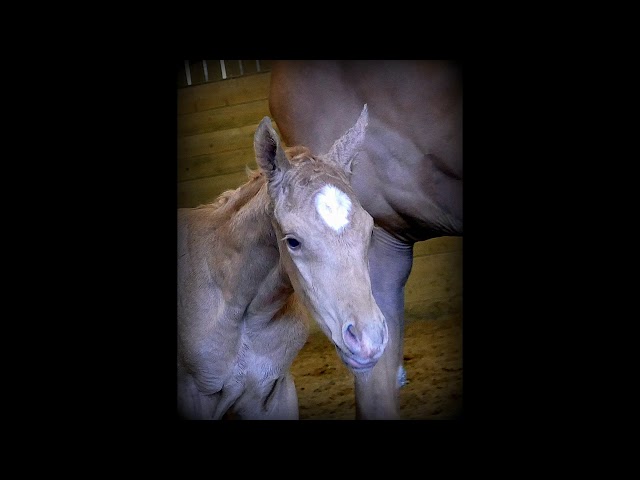 Click Here to Add a Title
GFS Zoffany

16th April 2019

GFS Fire and Ice x Treloan Simply Red

(Kings Composer x Amerigo Vespucci/Shaab)

Buckskin Filly

To make 16.2hh (approx)

£6000



This really is a breathtakingly beautiful filly and physically built with the strong, athletic build of a born athlete.
By GFS Fire and Ice whose pedigree boasts the late great Rock King and Bohemond and out of this wonderful Kings Composer mare, I think this filly is born to event!
Kings Composer is the sire of numerous Advanced eventers, Grade A showjumpers and County Show Hunters and known for his exceptional temperament and the rideability of his offspring. Treloan Simply Red is the daughter of our cherished Treloan Tiger Lily (Amerigo Vespucci x Shaab)who has proven herself as a mare who consistently produces offspring of exceptional type and temperament and whose offspring for us are all in professional homes.
Here's what we've been working on
Click Here to Add a Title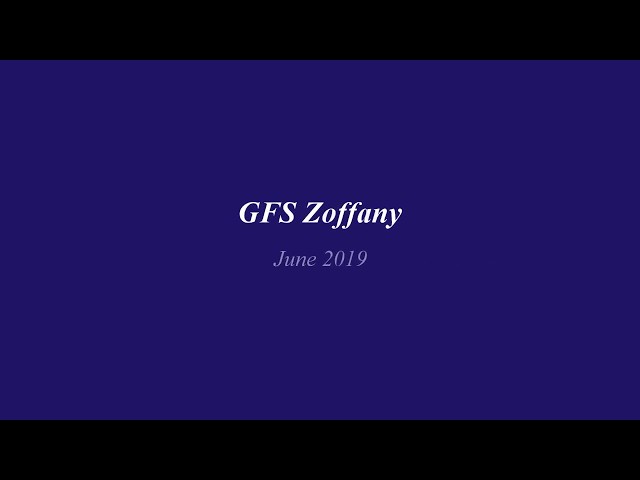 GFS Firecracker

16th April 2019

GFS Fire and Ice x GFS Athena (Alba - Radihaza Martaloc/Aladin x Burban/Almhirt Tynsky)

Buckskin Filly Blanket Spot Filly

To make 16.2hh (approx)

https://sporthorse-data.com/pedigree/firecracker-3


£5000

SOLD TO BE PRODUCED FOR EVENTING







This really is a very unusually marked buckskin blanket spot warmblood filly with absolutely spectacular colouring, the conformation of a born athlete and has already shown us that she simply floats!
Breathtakingly beautiful and a superb prospect for anyone looking for an exciting all rounder with a super temperament, capable of performing to a high level in any of the disciplines. Her movement is straight, expressive and impressive enough for dressage at a high standard, she is fast, balanced and bold enough to tackle cross country courses with ease and she loves to jump wherever the opportunity unfolds!
By GFS Fire and Ice whose pedigree boasts the late great Rock King and Bohemond and out of this stunning old fashioned type warmblood mare whose dams pedigree boasts some superb Eastern European bloodlines as well as being out of a rare purebred Graded Czech Kinsky.
In our opinion this filly could make a very exciting eventer but equally is showing early talent in the movement stakes too!! Whatever discipline she is produced for, she will make a fun and rewarding horse with her delightful personality and great attitude.
This leggy, athletic filly is already showing herself to have a winning character with a calm, curious nature and natural sociability.​
Here's what we've been working on
Our final foal of 2019. To complete our wonderful rainbow of dilute colours this year, we have a very striking looking smokey black colt. Tall, correct and exceptionally handsome!
By GFS Lord of the Dance, our young AES Graded stallion whose pedigree carries some exceptionally rare and desirable performance Russian Trakehner, Akhal Teke and TB bloodlines. This lovely colt is out of Neforia (KWPN) who is by San Remo and whose own maternal line is of exceptional dressage and showjumping provenance with her dam an Elite Dressage International horse and G.dam a G.Prix showjumper. We would very much hope that this young man will also prove to be a sensational competition prospect!
Here's what we've been working on
/