Shopping Cart
Your Cart is Empty
Thank you for your business!
You should be receiving an order confirmation from Paypal shortly.
Exit Shopping Cart
These foals have been bred with absolute passion and pride. They are products of careful planning, absolute attention to every detail and allowed every developmental opportunity to thrive and become the best they can be from conception.
We use carefully chosen mares of great qualities with exceptional temperaments to enhance the very special attributes of our homebred and AES Graded stallions whom we have bred and produced with the same love and care.
Our farrier visits from three weeks of age and at regular intervals to ensure that they are correctly balanced at all stages of their rapid growth, we have a stringent worming program and each foals growth and well being is monitored religiously.
Our foals are well handled, trusting and age appropriately trained in hand for routine procedures.
We are blessed with large rolling paddocks where our young horses enjoy enormous freedom to roam over the varied terrain gaining confidence, stength and balance over the Devon hills. They spend their formative months with other foals and their dams living and learning together at rest and play. We cannot guarantee to breed a superstar every time but we can promise that a GFS foal will have the best start in life, be a genuine, versatile performer and be blessed with a temperament that is invaluable and who knows...with time and the right partnership a star may well have be born too!
This beautiful colt by the TB stallion, consistently rated over 120 in racehorses and consistent winner on the track; Geordieland (Johann Quatz x Aerdee - Highest Honor/Final Straw) and out of our very special Lola (Who's Joker - Osilvis (GP Showjumping stallion) x Slyguff Joker/First Consul)

He is jet black although there is every chance that he may have inherited the grey gene that his stunning sire carries...time will tell, but regardless this is one fantastic foal. He is tall, strong, straight, beautifully put together and already showing himself to be both athletic and a little precocious!
With his fabulous bloodlines and 3/4 TB breeding, there is every reason to believe that we have just seen the arrival of a rather exciting future eventer!
Click Here to Add a Title
This colt is an absolute stand out example of everything a future eventer presents as a foal. He just demonstrates such natural speed, balance, cat like agility, grace and audacious confidence in his attitude to everything he encounters.
In terms of pedigree, I don't think you could fault the strong bloodlines, built on the proven foundations of speed, stamina and and top level jumping ability.
His sire Geordieland is a powerfully built thoroughbred, lauded for his speed, stamina and resolution on the track. He is consistently rated over 120 in racehorses and proven at Group 1 level and a consistent winner. Standing at 16.3hh, he is by the leading sire of NH sires, Saddlers Wells; half brother to Hernando another leading NH sire. His dam Aerdee is both a winner in her own right and the dam of five winners. His Grandsire Valse Hesitation won LR Prix Charles Laffitte.
Click Here to Add a Title
On his dams side, Who's Joker is sired by the 17.1hh International GP showjumping stallion Osilvis. He is a Futurity nominated stallion standing in the US whose offspring have consistently risen up the ranks of Grand Prix showjumping and USHJA in Hunter Derby. He is a stallion known for his great mind, exceptional balance and enormous scope; something that most importantly he has proven to pass on to his offspring.
Osilvis is by the prolific sire of Showjumping progeny, Silvio II who was approved for Oldenburg, KWPN and SI.
On his dams dam side, she is by the International showjumping stallion and legendary sire of showjumpers and sires of showjumpers, the Irish Draft stallion King of Diamonds. She is out of a First Consul TB mare.
GFS Thunderstruck August 2018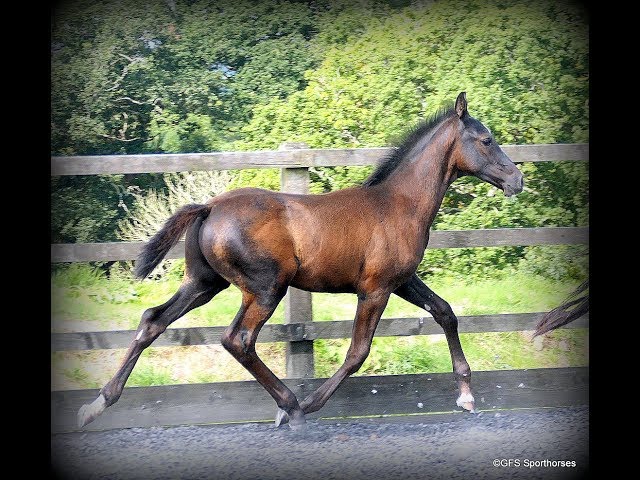 Click Here to Add a Title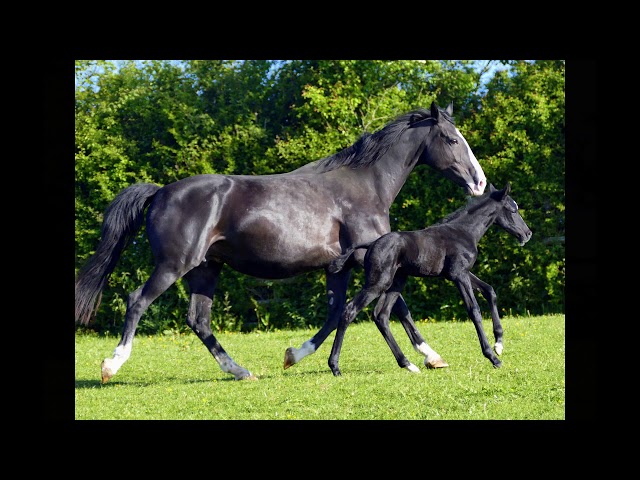 GFS Thunderstruck at two weeks old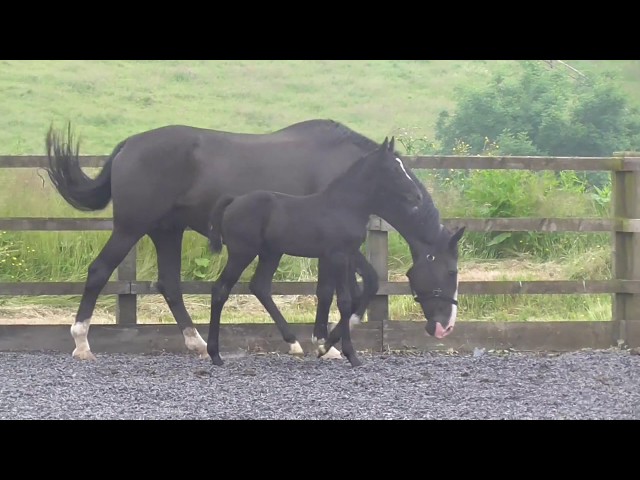 Here's what we've been working on
Our first 2018 GFS Lord of the Dance (Destello x Malibu Galileo) foal and what an absolutely fabulous example of everything we hoped for from this exciting young stallion out of one of our ideally suited and very special mares.
GFS Fandjango is tall, leggy, conformationally in perfect linear balance and demonstrates the natural balance, agility and power of a born athlete. This boy is bred to event and that is where he will make his mark. Quick as a cat, this colt shows incredible pace and physical control. He is bold, clever and confident.
His bloodlines boast elite Russian Trakehner and Akhal Teke bloodlines combined with Thoroughbred and quality Hanoverian pedigree of note through his promising young sires immediate ancestry.
Click Here to Add a Title
His dam is by the Danish Warmblood Crown's Ace of Pearl who is a stallion who has acquitted himself as a true athlete as a showjumper, in the dressage arena and eventing. His sire Crown's Blue Pearl, following in his own illustrious sires footsteps was not only the Gold Medal Stallion of the Year in 2007 but also a GP showjumping International.
This stunning colts dams line is sired by the precocious and celebrated TB stallion Hubbly Bubbly, sired by and with a double cross to Mr Prospector.
This ancestry is directly linked to the inimitable Secretariat
Click Here to Add a Title
This clearly special colt is considered to currently demonstrate all of the future potential qualities of not only a true performance horse but possibly a young horse with stallion quality.
Every inch an athlete, this colt already has a free swinging walk with purpose, a good trot and the ground covering canter and gallop with the extra gears of an eventer! He is bold, friendly and full of confidence as well as a quick learner.
Serious enquiries only please for this foal, he would be wasted in anything but an ambitious competitive home.
GFS Fandjango August 2018
GFS Fandjango - August 2018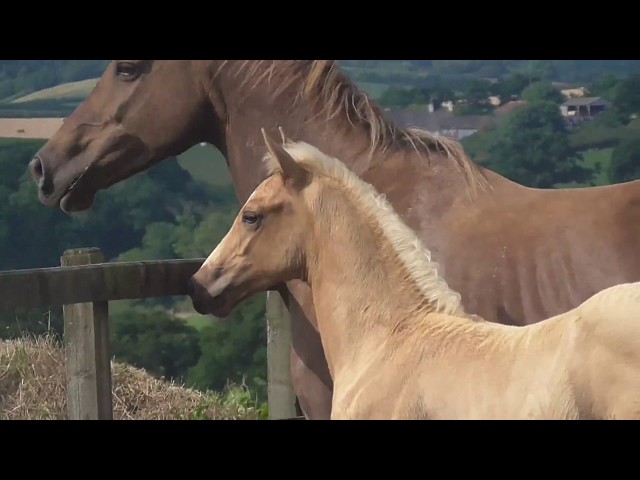 A short slide show of his first few days!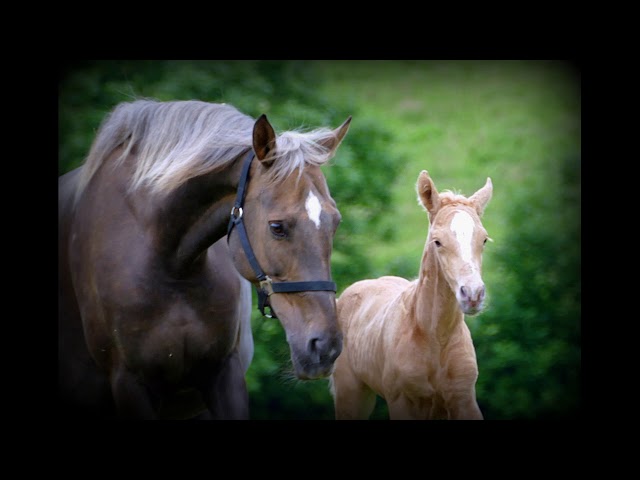 GFS Byzantino

5th June 2018

Golden Palomino colt

(GFS Lord of the Dance x Amerigo Vespucci/Shaab)

To make 16.3hh/17hh +

SOLD
This absolutely stunning looking colt is a perfect example of the quality and class with which the young AES Graded cremello stallion, GFS Lord of the Dance is 'stamping' his offspring to date. Tall, well built with a powerful, compact frame, long legs and extremely attractive head set well on an elegant neck of good length. Equally exciting is the bold, calm and easy going charm they inherit from this beautiful young stallion whose gentle, unflappable nature makes him such a joy to deal with.
'Django' is a home bred young stallion whose sire we owned and stood with great success until the time of his untimely passing.
Click Here to Add a Title
Destello was imported by myself as a yearling from his breeder in Estonia. His breeding was rare and highly sought Russian Trakehner x Akhal Teke with superb breeding and illustrious competition ancestry on both sides of his pedigree. Sadly injured as a two year old, he was unable to commence his much anticipated career under saddle and out eventing. There is however little doubt that had he had the opportunity his unbelievable athleticism, raw speed, power and endurance coupled with his incredible brave nature would have made him a formidable force in competition.
Dar, Destello's sire is by the International Grand Prix and Elite stallion Ashkhabad and his dam Dolina was a show jumping International.
The Russian Trakehner is rarely seen outside of Russia. This aristocratic and jealously guarded product of highly selective breeding has proven results throughout Eastern Europe as exceptionally talented performers in each of the three major discipline
Aschachabad, Dars sire was an outstanding Russian Trakehner stallion by anyones standards. Bred at the famous Dovatar Stud, he was the winner of Young Stallion of the year held amongst all Belorussian Trakehners. He scored an unprecedented 10 for his jumping ability. However, it was as a dressage horse that Aschchabad was to make his name. He was eventually sold to Germany for dressage.
Click Here to Add a Title
This colts dam is a simply stunning Hanoverian mare is bred in the purple and had been competed as a youngster in all three disciplines with enormous promise having competed evented to Intermediate and some excellent results prior to succumbing to a serious injury that saw her career change to that of a broodmare. Her temperament and character are impeccable and she has been lightly ridden whilst with us demonstrating superb manners and willingness whatever was asked of her.
She is a kind, gentle and graceful mare who produces foals of exceptional quality.
By Amerigo Vespucci, a 100 day performance tested Hanoverian, Group 1 British Warmblood stallion who was a proven Showjumper and competitive dressage horse and sire of progeny competing in all three of the Olympic disciplines. His impressive pedigree lists Celle State Stud Stallion Airport and Argentan, one of the most influential stallions in showjumping and G.Sire of Arko, Adlantus an Anka.
Her dam sire Shaab ran a total of 41 times, winning 8 of his races and being placed 9 times. His progeny are renowned for their exceptional temperaments and many proven as top class eventers.
GFS Byzantino October 2018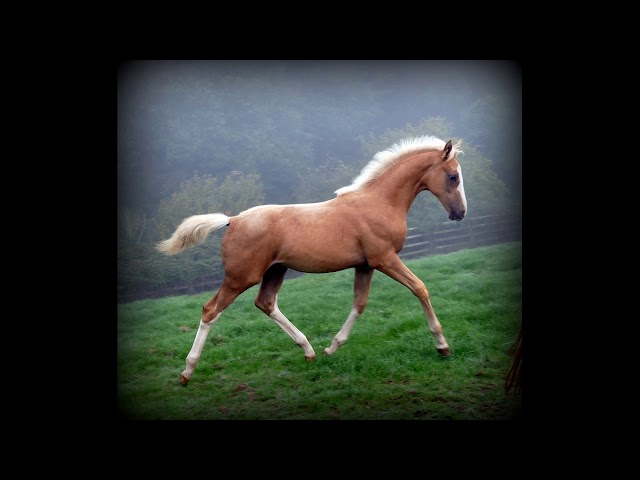 GFS Byzantino August 2018
GFS Byzantino - August 2018
A slide show of his first few days...!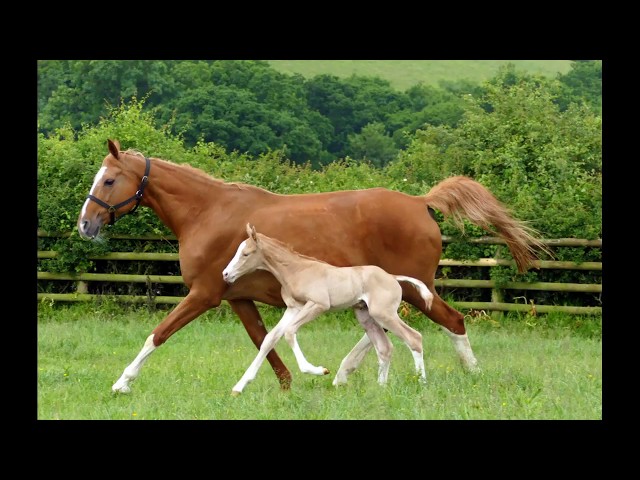 Treloan Tiger Lily's colt at two days old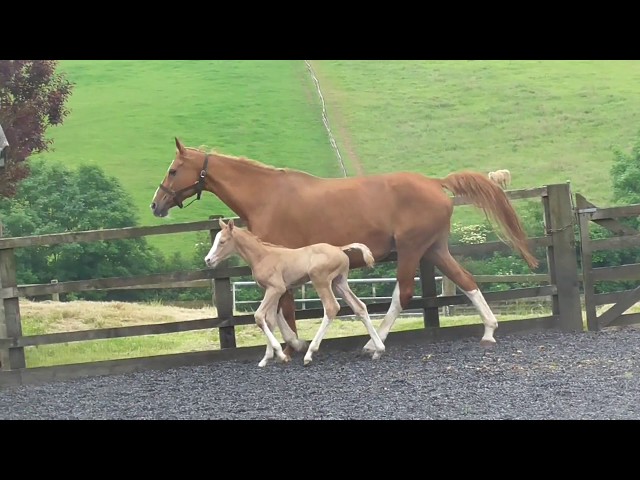 GFS Chiquitita

6th June 2018

(GFS Lord of the Dance x San Remo/Haarlem (Legaat)

Buckskin Filly to make 16.1hh+



Click Here to Add a Title
Our only filly to date this year and as such it seems only fitting that she should be so incredibly feminine and beautiful.
This very attractive foal has been bred very much with eventing in mind but both her pedigree and evident balance, poise and grace makes he a very interesting choice as a potential dressage prospect.
Her conformation is excellent and she moves beautifully with ground covering paces which demonstrate effortless extension and elevation, straight and purposeful. She is expressive in both presence and motion. She will make a very exciting young horse to produce as she matures and will certainly draw all eyes no matter where she goes!
Click Here to Add a Title
In terms of her pedigree, she is a lovely example of the elegant and athletic offspring that our junior AES Graded stallion GFS Lord of the Dance is consistently producing over the quality mares that have been selected for him.
It had been very much hoped that this rare and exotic infusion of top performing Russian Trakehner and Akhal Teke ancestry blended with the class and quality of the thoroughbred and performance warmblood that we have woven into the fabric of our breeding program would produce this type of ultimate athlete. Our extreme attention to only breeding with both mares and stallions with every desirable physical and mental attribute shines through as well as the absolutely genuine and good nature temperaments that we are so renowned for as a stud.
Click Here to Add a Title
As I have described her sires impressive ancestral roots with great detail on his page. I shall outline instead this filly's equally illustrious dam lines.
ZB Neforia is a Graded KWPN mare who has proven herself as a superb producer of top progeny. Her dam was an Elite Graded mare who was an International GP dressage horse. By Haarlem a GP showjumper and sire of successful progeny in each of the Olympic disciplines and son of the inimitable and legendary stallion Voltaire.
Neforia was sired by San Remo, an Approved Hanoverian stallion also Graded KWPN. Sired by Wolkantz I a son of the great Weltmeyer. His damsire Volturno was an eventing stallion, twice German Champion and an Olympian.
GFS Chiquitita - August 2018
GFS Chiquitita - August 2018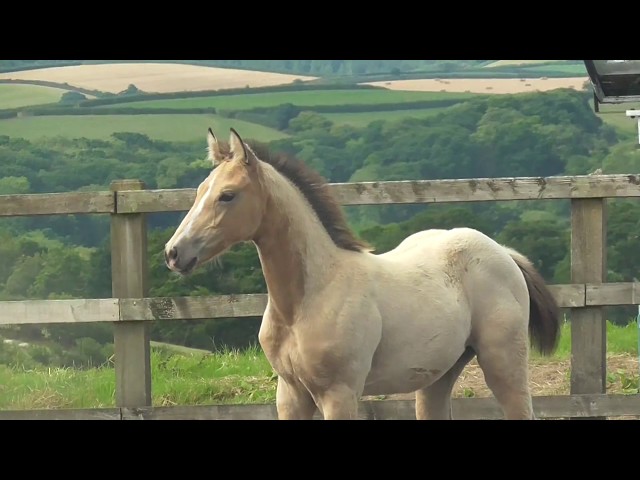 Chiquitita first few days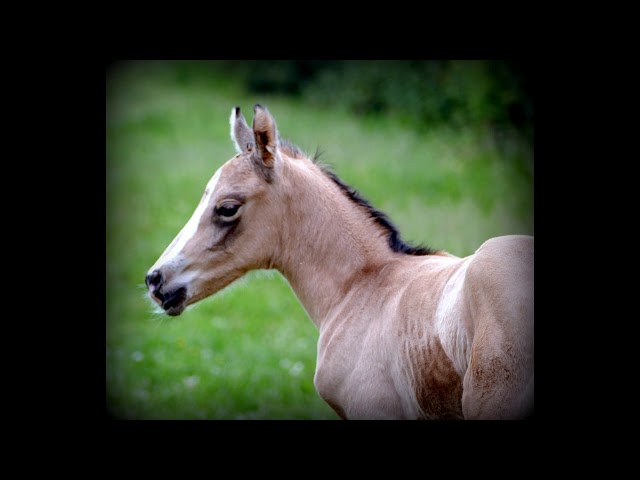 Click Here to Add a Title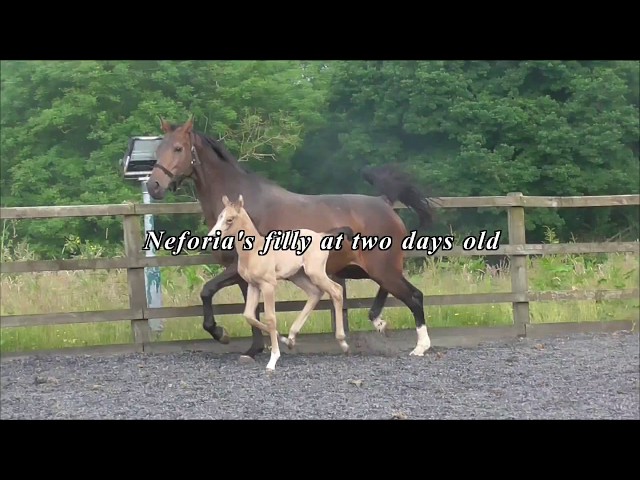 GFS Shockwave & GFS Aftershock

8th June 2018

(GFS Fire and Ice x Olympic Lux/Lux Z)

Buckskin Blanket spot twin colts!

The taller twin GFS Shockwave has now been sold, please contact us for details on his stunning twin brother!
Nobody was more surprised when these little fellows made their initial appearance! A 'red bag' delivery, single placenta, dual presentation and quite a bit of untangling before we could absorb what had occurred! We have genetically identical twin colt foals. Both created from the same egg, they are very nearly identical in appearance too! They were not identified during our routine scans.
It is an incredibly rare that twins survive a pregnancy, the fact that both were born and have survived! They went full term and other than one being slightly smaller than the other, both were standing and feeding within the hour. A pair of little miracles but not an experience we would wish to repeat despite being incredibly lucky in this instance!
Sired by GFS Fire and Ice, our exciting young AES Graded perlino leopard spotted stallion, their amazing mum, Liosin Lux is also the dam of our Graded stallion Paddy of Liosin. She is by the KWPN stallion Olympic Lux. He is a proven sire of remarkable progeny. He competed up to six years of age jumping National 1.30m classes. He comes from the same mareline that has produced the stallions Tenerife VDL and Quasimodo Z to name but a few. His dam Filomin is a Keur mare and a GP showjumper. Second dam Wilomena II is half sister to the great showjumper Paloma.
Click Here to Add a Title
Olympic Lux has sired International showjumpers but is also a dual purpose sire with many successful eventing progeny. Sired by Lux Z, one of the most successful stallions in International showjumping. He competed at the 2000 Sydney Olympics. A winner of over a million euro, his pedigree is something of a blue chip dynasty in the world of International competition, with a litany of champions peppering every extension of the family tree!
The twins sire: GFS Fire and Ice
By GFS Fire and Ice our own young AES Graded stallion. His sire Colourthyme Kajika who stood with us for many years is a rare breed knabstrupper x Kinsky warmblood . There is a page describing his ancetry on this website.
Fire and Ice's dam, Folly, is a big moving and very powerful mare, retired from Eventing due to an accident.
Folly is by the leading sire of event horses Rock King. Himself the sire of the Olympic eventer Rock Model. He also sired four competitors at the 2008 CCI **** at Luhmuhlen.
Click Here to Add a Title
Rock King was renowned for his fantastic temperament, excellent paces and superb jumping technique. As a four year old Rock King won the Stoneways Potential Showjumper and was in the final twelve for the Young Event Horse Class. From there his career sky rocketed. Sadly, his career was tragically cut short whilst competing at Tweeseldown Horse Trials in 2000 where he sustained a fatal injury. He was at that time already Advanced, accruing over 200 BE points during his short career which would otherwise undoubtedly have seen him feature in many major horse trials.
He was sired by, Just a Monarch. A stallion that has produced many superb competition stock over the years. Many of his proven progeny including the International Event Horses, Kings Jester, Just an Ace and Midnight Monarch, as well as point-to-pointer Mark Methane who has won over 30 races.
GFS Shockwave & GFS Aftershock - October 2018
The twins during their first two weeks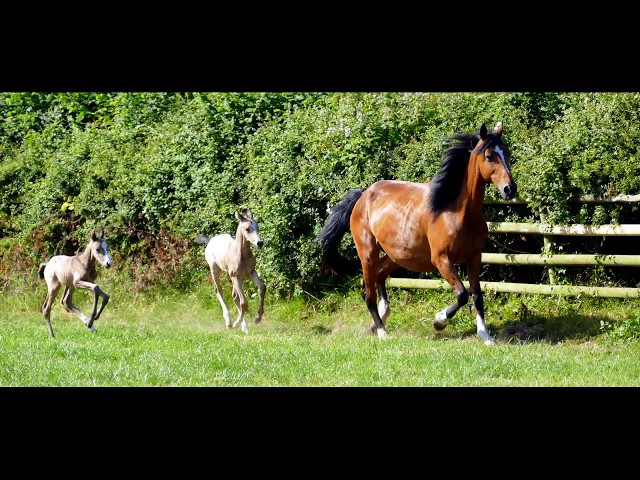 GFS Rapunzel

29th June 2018

(GFS Lord of the Dance x Karandasj/Hofnar/Aram

Palomino filly



This tall, very feminine yet incredibly athletically built palomino filly was bred as intended as a potentially formidable potential eventer and she is looking the part so far...although it is obviously early days!! She has beautiful long straight legs, a powerful and compact body and a commanding presence that is graceful and proud. A very 'chatty' filly, this one knows she is something special and wants the world to know it!
A little about her bree​ding
Zievident is a KWPN registered mare with a consistent BSJA track record with double clears in Discovery and who demonstrated effortless scope and style over her jumps. Easily schooled over 1.30 at home, she arrived here having found herself in the wrong home and as luck would have it found her way to me!
She is by the KWPN Keur awarded stallion Karandasj (Fedor/Darco). A stallion renowned for his outstanding temperament and rideability, he is a top WBFSH ranked sire of both eventers and show jumpers.
Karandasj started his career becoming Champion of the Performance tests with top marks for jumping and 8's and over in all additional scores. He jumped at international level by six, winning and placing on the Grand Prix circuit. His sire, Fedor jumped and won internationally, siring numerous international showjumping progeny. His famous sire Darco needs little introduction other than he is a legend of modern showjumping breeding!
The dam or Karandasj was by another showjumping international, the great Irco Polo.
Zievident's dam Lievident (Hofnar/Amor/Nimmerdor) was an international Grand Prix dressage mare with an interesting pedigree that is an amalgamation of both elite showjumping and dressage performance bloodlines. By the KWPN stallion Hofnar, a horse renowned for his breathtaking movement. With outstanding thoroughbred sire lines his dam Dakina (Keur Preferent) was by the dual purpose Amor and her dam sire Nimmerdor, Preferent stallion and international showjumper considered by many to be the sire of the century with over 40 Approved stallion progeny globally.
GFS Rapunzel...her frst three days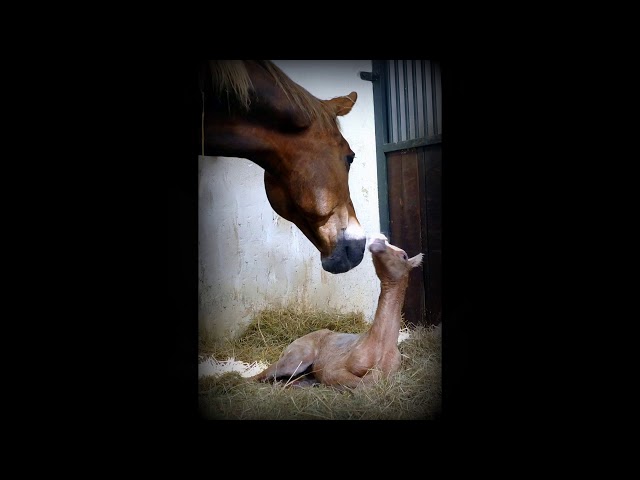 GFS Rapunzel - A Slide show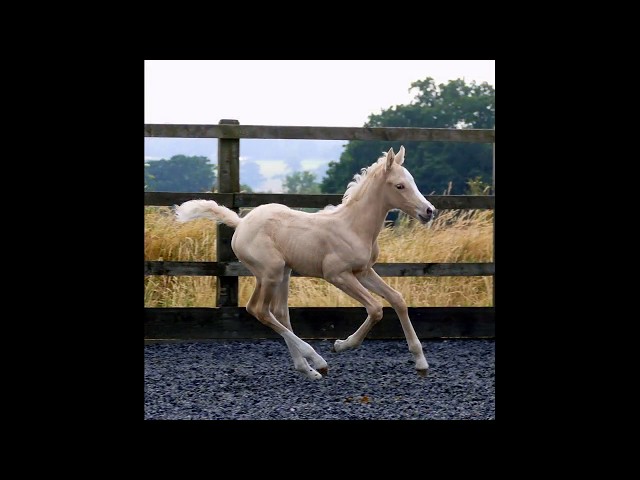 /