Shopping Cart
Your Cart is Empty
Thank you for your business!
You should be receiving an order confirmation from Paypal shortly.
Exit Shopping Cart
GFS Eskimo Jo 'Mojo'

2014 18hh

Paddy of Liosin x Corrado I/Landgraf I

https://sporthorse-data.com/pedigree/gfs-mojo


Graded and Licensed with the Anglo European Studbook

GFS Eskimo Jo has been tested and is clear of WFFS-1




STANDING AT STUD 2022

Live Cover/AI/Fresh/Chilled

£600 NFFR
This young horse is the culmination of all the hard work, passion and planning...he is our dream....!
'Mojo' is incredibly special in so many ways. Orphaned at four months, we lost his very precious dam suddenly and unexpectedly. 'Aunty Alice' as she was known (real name N-She's All) was an enormous horse in terms of both presence and height with a personality just as impressive! She was a horse of a lifetime and has passed on her very special qualities to her equally impressive son.
Aside from our emotional connection to this utterly beautiful and enormous golden horse, he has superb conformation, a kind and willing nature. He is very loving, has a huge personality and although cheeky on occasion, he is incredibly intelligent and has a keen intelligence and willingness to learn.
Mojo is is enormously athletic and will be aimed at either a show jumping or eventing career.
Sired by our own young stallion Paddy of Liosin. His bloodlines are predominantly of show jumping providence. His sire is Crown's Ace of Pearl a stallion who has been campaigned extensively as show jumper, dressage and eventer, he is by the ZfdP International GP show jumping stallion, Crown's Blue Pearl. A horse bred from the rare and multi talented Kinsky breeding program and infused with high performance thoroughbred bloodlines. The German stallion A-Dur compliments this impressive jumping providence.
Paddy's dam is by Olympic Lux (Lux Z/Lord Calando/Ahorn Z x ​Ahorn/Nimmerdor/Vicomte Grandieux), the KWPN stallion and prolific sire of of over 15 show jumpers and 15 eventers, all competing at top level. His sire, Lux Z has made an enormous impact on Holsteiner sports breeding. As well as being an Olympic show jumper he has sired over 60 show jumpers and significant numbers of both eventers and dressage horses.
Now this is where Mojo's breeding becomes really interesting!
Mojo's dam, N-She's All, a Head Stud Book and premium graded Holsteiner is 100% jump bred. Her sire, Corrado is yet another Olympian with over 120 show jumping progeny to date. He is considered as the founder of a Holsteiner sire line of his own! In his stallion performance test he scored an unprecedented 10 for both his loose jump and that under saddle.
Corrado is by Cor de la Bryere, a stallion that revolutionised the jumping horses' breeding. He too had an incredible impact in Holsteiner and he occurs in more than 80% of the top performance pedigrees as well as being credited with improving the breed's jumping technique. His sire Rantzau was from 1971-1973 the leading sire of dressage horses, show jumpers and event horses in France. He is regarded as the best thoroughbred stallion who ever entered the French sport horse breeding industry.
Corrado's dam, Soleil was a Nations Cup eventer and was herself by the extraordinary jumper, Capitol I, a stallion known to have 'put wings' on a legion of offspring. It is thanks to his influence that the Cottage Son xx line became one of the most influential thoroughbred infusions in Holstein breeding.
Holsatia IX, 'Mojo's' dams dam, was by the show jumping Olympian/World Championship stallion Landgraf I. Labeled by many as the 'stallion of the Century'. Immortalised in bronze at Elmshorn where he stands as the symbol of the modern Holsteiner Sport Horse. Her dam, Wicke III was by Caletto II (a son of Cor de a Bryere).
The evident potential in 'Mojo's bloodlines and the legendary ancestry that graces this stunning young horses pedigree indicates true potential on paper and his Grading results when presented to the Anglo European Studbook certainly seem to add gravitas to this.

Presented as a two year old, late in his second year GFS Eskimo Jo both stunned and impressed with his tremendous stature and character. He was awarded out of 10. An 8 for trot, 7 Posture and Balance, 9 Canter, 7 for both Reflexes and Technique. His scope over a fence was awarded and 8 and his attitude a 9. A horse for the future was the general consensus!
Mojo has since grown into his Herculean frame and last year we concentrated on developing his flatwork . His incredible concentration and willingness had him performing to Medium level very rapidly, finding lateral work so very easy and quickly establishing the basics of piaffe and passage. Aggravating an old injury saw a hold put on work early last summer but now well recovered we are hoping to start working on his jumping.
He is a larrikin on the ground with a huge sense of humour but absolutely no malice which is fortunate given his size! He has a generous nature, sensible attitude and is a delight under saddle with an intelligence and work ethic that makes him a delight to ride.
He has produced two super foals from two very different mares in 2017 from the two year old test coverings we routinely conduct to assess potential offspring quality. This year we have seen two absolutely exceptional foals with one more to arrive. As a result we have covered a larger book of mares this year!
This page is a work in progress......we expect it to become quite an exciting story!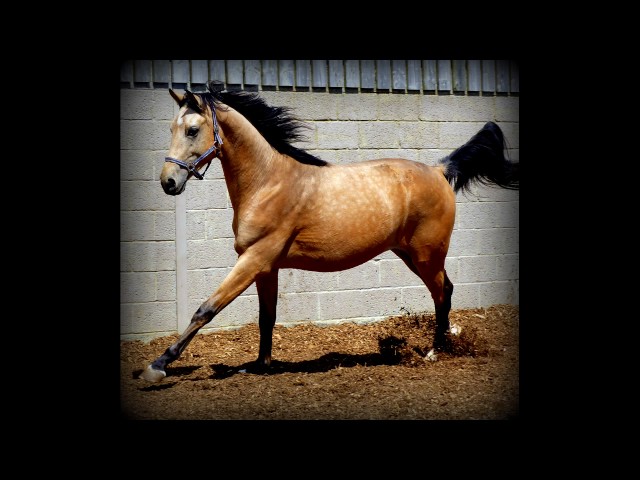 GFS Eskimo Jo - A video diary from day one to his third birthday!
Very boring for most , I know! However, we have religiously photographically documented all of our home breds from day one and find it fascinating to revisit the evolution from newborn to the 'romping, stomping proud showman/woman at maturity...well in 'Mojo's case anyway! Now standing at 18hh, he is quite some horse! This video stops on his third birthday, I cannot wait to document the next three years!
GFS Eskimo Jo's foals 2020
GFS Eskimo Jo - a few paddock shots at play April 2020
Regular Schooling Session video 27th April 2019

~ long and probably boring for many, but for those who are interested this is a typical schooling session for 'Mojo'!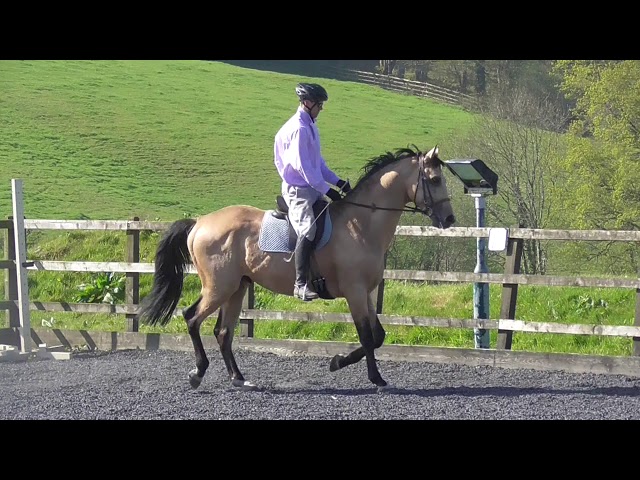 'Mojo' ~ GFS Eskimo Jo starting proper ridden work at four years old (08/2018). Now standing at 18hh, this young stallion will be taken very slowly and allowed to physically and mentally mature before he is asked to do much. Like his sire, he is a very large horse and will need very gradual and sympathetic production over the next few years. but from what we have seen, he is going to be something quite special! He is very agile for his size and age and more balanced than expected. He has a very quick and clever mind and the trick has been to keep him focused and interested in order to maintain his attention! As you can see from the last few photos...he is quite some boy!
GFS EskimoJo 2017 at 3 years old!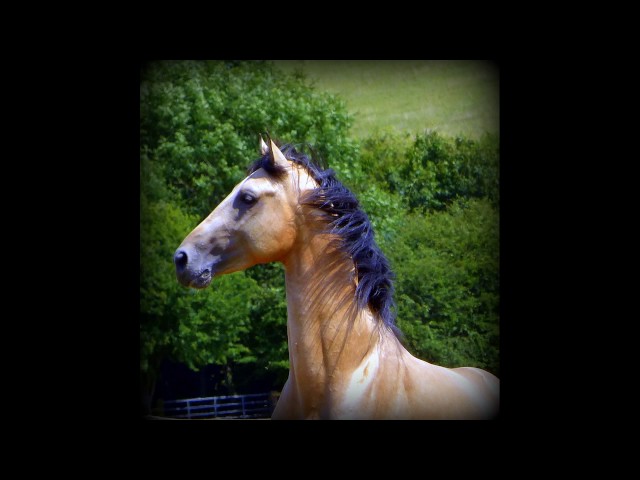 /