Shopping Cart
Your Cart is Empty
Thank you for your business!
You should be receiving an order confirmation from Paypal shortly.
Exit Shopping Cart
GFS Chiquitita

6th June 2018

(GFS Lord of the Dance x San Remo/Haarlem (Legaat)

Buckskin Filly to make 16.1hh+




SOLD TO THE USA

Click Here to Add a Title
This very elegant yearling is so incredibly feminine and beautiful, she has been bred very much with eventing in mind but both her pedigree and evident balance, poise and grace makes he a very interesting choice as a potential dressage prospect.
Her conformation is excellent and she moves beautifully with ground covering paces which demonstrate effortless extension and elevation, straight and purposeful. She is expressive in both presence and motion. She will make a very exciting young horse to produce as she matures and will certainly draw all eyes no matter where she goes!
Beautifully bred with good bloodlines of exceptional versatility, Chiquitita is a delight to handle in every situation. She is an incredibly quick learner and her sensible attitude and generosity of spirit make her a delight to work with.
Great with the farrier, to worm, catch and lead. She has lovely stable manners, accepts both rug and headcollar without objection and is happy to lead away from her friends.
Chiquitita is calm and intelligent, with a lovely attitude but she is the type to suit a more ambitious rider with a kind, calm and consistent approach as much like her dam, she is sensitive in the best possible way and the sort of horse most likely to develop a huge bond and trust in a one to one situation to really reach her full potential. That said, she is happy to be handled by anyone, incredibly cooperative and is the sweetest natured character with a brave attitude and pleasing acceptance when asked to do something out of her comfort zone.
Click Here to Add a Title
In terms of her pedigree, she is a lovely example of the elegant and athletic offspring that our junior AES Graded stallion GFS Lord of the Dance is consistently producing over the quality mares that have been selected for him.
It had been very much hoped that this rare and exotic infusion of top performing Russian Trakehner and Akhal Teke ancestry blended with the class and quality of the thoroughbred and performance warmblood that we have woven into the fabric of our breeding program would produce this type of exciting athlete. This filly is a lovely example of this type of modern infusion of these ancient performance bloodlines. Our extreme attention to only breeding with both mares and stallions with every desirable physical and mental attribute shines through as well as the absolutely genuine and good nature temperaments that we are so renowned for as a stud.
Click Here to Add a Title
As I have described her sires impressive ancestral roots with great detail on his page. I shall outline instead this filly's equally illustrious dam lines.
ZB Neforia is a Graded KWPN mare who has proven herself as a superb producer of top progeny. Her dam was an Elite Graded mare who was an International GP dressage horse. By Haarlem a GP showjumper and sire of successful progeny in each of the Olympic disciplines and son of the inimitable and legendary stallion Voltaire.
Neforia was sired by San Remo, an Approved Hanoverian stallion also Graded KWPN. Sired by Wolkantz I a son of the great Weltmeyer. His damsire Volturno was an eventing stallion, twice German Champion and an Olympian.
GFS Chiquitita - August 2018
GFS Chiquitita - August 2018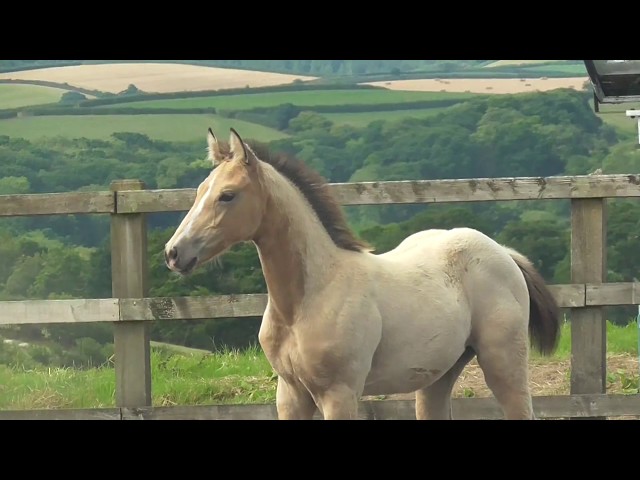 Chiquitita first few days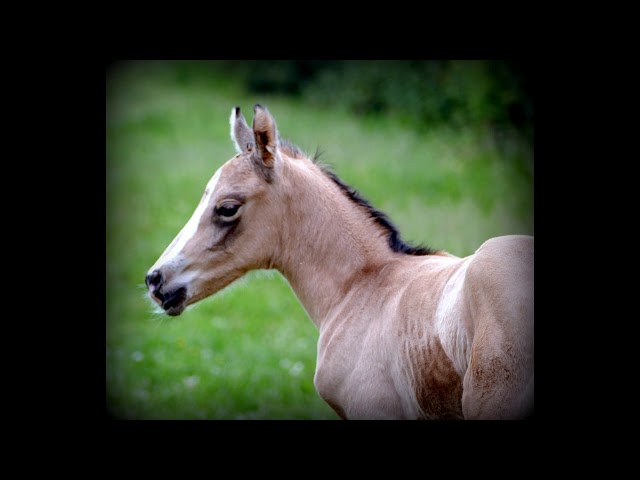 Click Here to Add a Title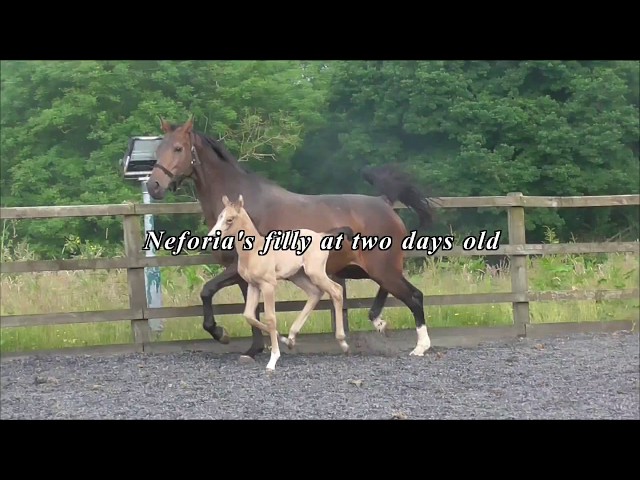 /