Shopping Cart
Your Cart is Empty
Thank you for your business!
You should be receiving an order confirmation from Paypal shortly.
Exit Shopping Cart
GFS Appassionata

​GFS Fire and Ice x Deihaiwejo (Al Pacino W x Aiglon Rouge/Enrico)

14/05/2017

Golden buckskin filly

To make 17hh +

SOLD

​This filly is about as tall, leggy and glamorous as you can get! A deep golden buckskin with a beautiful head, this lovely young two year old is elegance personified and is of the type of quality and temperament that is becoming increasingly hard to find.
She is going to be very tall and I would estimate a mature height of approx 17hh. She currently measures 16.1/2hh. This is a beautifully proportioned young horse with natural grace, a willing, sociable nature and could without a doubt become a serious competitor in any of the three Olympic disciplines. Her bloodlines are predominantly of historically strong jumping talent on her dams side (Al Pacino x Andiamo/Julio Mariner) and there is equally exceptional eventing provenance to be found in that of her sires pedigree.
Appassionata is a kind, sensible filly who displays a pleasing attitude in all situations and willingly adapts to whatever environment she is put in. She has an impressive swinging walk which is purposeful and demonstrates a good over track. Her trot is both full of natural extension and elevation, at the canter and gallop she shows a lovely turn of foot as well as demonstrating good balance, turn of speed and spatial awareness. She is brave and a naturally calm, friendly character who shows no indication of being sharp in nature or of nervous disposition. This filly has been exceptionally well handled and has a good brain, with a willingness to interact and accept lessons taught with good grace and intelligence.

She is easy to catch, lead, wash, rug,worm and trim, she has no stable vices and is up to date with her vaccinations. She has excellent manners both in and out of the stable. Open to any vetting.
A little about her breeding
Appassionata's Sires lines
By GFS Fire and Ice our own young AES Graded stallion. His sire Colourthyme Kajika who stood with us for many years is a rare breed knabstrupper x Kinsky warmblood . There is a page describing his ancestry on this website.
Fire and Ice's dam, Folly's Rock is by the leading sire of event horses Rock King, the sire of the Olympic eventer Rock Model. He also sired four competitors at the 2008 CCI **** at Luhmuhlen.

Rock King was renowned for his fantastic temperament, excellent paces and superb jumping technique.
As a four year old Rock King won the Stoneways Potential Showjumper and was in the final twelve for the Young Event Horse Class. From there his career sky rocketed. Sadly, his career was tragically cut short whilst competing at Tweeseldown Horse Trials in 2000 where he sustained a fatal injury. He was at that time already Advanced, accruing over 200 BE points during his short career which would otherwise undoubtedly have seen him feature in many major horse trials.
He was sired by, Just a Monarch. A stallion that has produced many superb competition stock over the years. Many of his proven progeny including the International Event Horses, Kings Jester, Just an Ace and Midnight Monarch, as well as point-to-pointer Mark Methane who has won over 30 races.
Appassionata's dam also boasts a pedigree adorned with great horses. She is by Al Pacino W - An outstanding International Grand Pix show jumper and the son of the amazing "phenomenon" Andiamo by Animo- Almé) and out of a GP showjumping mare Oliano.
Her maternal pedigree sire lines are equally impressive with her dam sire, Aiglon Rouge a son of two of the most incredible jumpers and producers of simply incredible offspring. Narcos II and is out of the legendary mare, Dirka - dam of Quidam de Revel, Paprika de Revel, Vallon Rouge to name just a few!
This mare, in addition to her incredible ancestry is of high achieving and historically important bloodlines.
Deihaiwejo 'Inca' has the most wonderful character and sensible nature which she consistently passes on to her offspring. A mare of impeccable breeding, huge athleticism, movement and who was bred to excel as a jumper in her own right without the sad intervention of injury.
Al Pacino W was bred from the beautiful blood mare Satajaverte (by JulioMarinier xx) He showed his superb qualities during his performance tests: he was NRPS approved, and fulfilled all requirements KWPN Approval.
Andiamo Z her G.sire jumped to Grand Prix level.
His sire, Animo competed consistently among the best in World Cup and grand Prix competitions in the 90's. He jumped in the Olympic Final in 1992, and was placed in 48 World Cups ans Grand Prix. As a breeding stallion, Animo boasts sons approved in numerous studbooks globally.
Alme (GGG Sire)
Almé had a successful career at stud, which is often compared to that of the champion Thoroughbred stallion, Northern Dancer. He first stood at stud as a five year old, serving France from 1971-1974, before standing at Zangersheide from 1975-1985. He was then returned to France, where he stood at the Brullemail stud farm until his retirement in 1990, covering 420 mares from across Europe. His stud fee during this time, after having proven himself so well, ranged from F14,000 to F20,000.
During his first 4 years in France, Almé sired the international show jumpers Galoubet, I Love You (2 time World Cup winner), and Jalisco, as well as the stallions Quick Star and Quatoubet (sire of the three-time World Cup winner Baloubet du Rouet). While standing at Zangersheide, his offspring were registered in the Hanoverian stud book, where his blood had great influence, and he also made his way into the Holstein stud books through his sons Ahorn Z, Aloubé Z, Athlet Z, and Alexis Z. His grandson, Quidam de Revel, has also been used in Holstein breeding.
Alme is the only horse to have sired 2 World Champions and 3 Olympic horses. His son, Aerobic, became the top priced horse at the PSI Auktion in Ankum (650,000 DM).
Julio Mariner her GG Sire on her sires dams page is believed to be on of the top thoroughbreds ever produced for breeding top sporthorses. Adding refinement, speed and intelligence.
He produced mother-lines of great importance and also top competitive sons who have excelled in sport and as producers of sport horses.
Julio Mariner xx was approved in seven studbooks, including KWPN, Holstein, Hanover and Oldenburg. He was praised by breeders for his eagerness and excellent jumping techniques and is one of the best thoroughbred sires in Dutch breeding. Indeed, technique, reflexes and alertness characterise both the jumping manners of Julio Mariner xx and those of his offspring.
DEIHAIWEJO's DAM LINE
AIGLON ROUGE
16.2hh Selle Francais stallion of impeccable high performance bloodlines. Standing in Belgium this highly sought after sire of top jumping progeny is by Narcos II and out of the truly remarkable mare of world wide renown, Dirka.
Half brother to Quidam de Revel and Paprioka de Revel to name only a few of the outstanding offspring of Dirka.
NARCOS II
Chosen to compete in the Seoul Olympics and has been a regular competitor in international competitions from Calgary to Hickstead. In 1991 he won the European Young Riders Championship. Has won numerous puissance classes which included a record jump of 2.25 metres.
This is one of the most sought after stallions in France where his offspring are now now jumping internationally. He is half brother to Quat'Sous and Vercors IV and one of his sons' is Hinault.
DIRKA
Dirka, despite being only 163 cms, won at international level with Nelson Pessoa, before being given to Xavier Leredde who made his junior international debut on her.
Returned to her breeder, Prince Amaury de Broglie, Dirka was bred to Sans Souci, to produce two international competitors, Orka and Paprika de Revel, then with Jalisco B she produced Quidam de Revel and the broodmares, Razzia and Sarah de Revel. With Jalisco's half brother, Kisosovo, she produced CSO winner, Vallon Rouge, and with Narcos, Aiglon Rouge, a star in Holland. With Quat'sous, she produced Byra Rouge, and with Papillon Rouge, Dirka de Revel. What a mare!
ENRICO
Dam, Oilano's dam line - Kilano
Enrico is a high performance International showjumper of pure Anglo Arab Breeding. He is descended from Fast, Vadrague and Pancho, sires of numerous International Eventers, Show Jumpers and Grand Prix Dressage progeny.
Latest photographs - March 2019
GFS Appassionata October 2018
Click Here to Add a Title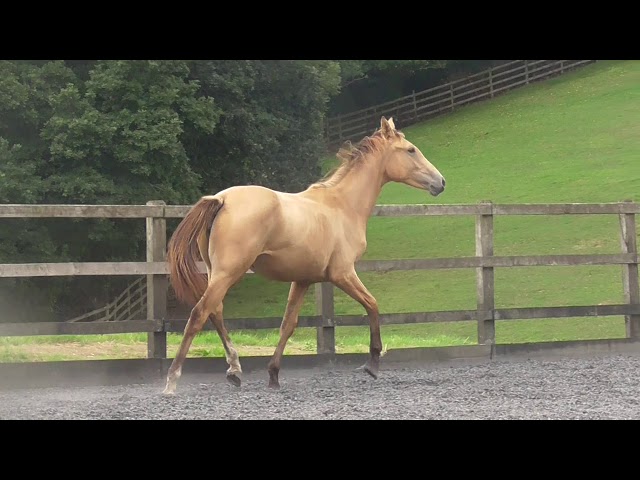 Click Here to Add a Title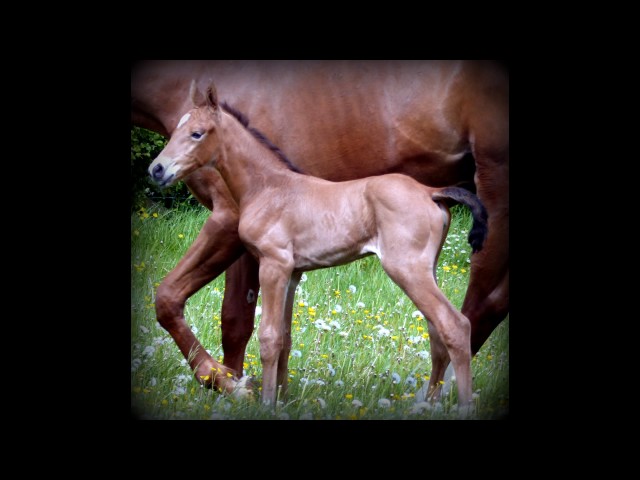 Click Here to Add a Title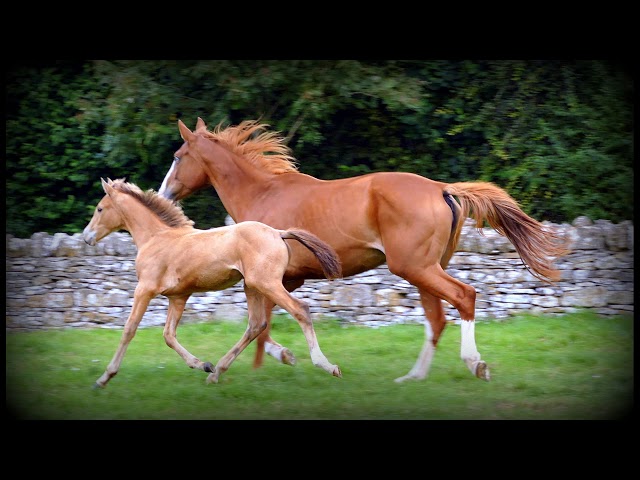 GFS Appassionata (winter 2017)
/