Shopping Cart
Your Cart is Empty
Thank you for your business!
You should be receiving an order confirmation from Paypal shortly.
Exit Shopping Cart
Quite one of the most beautiful of our young horses. This golden buckskin gelding with a sprinkling of snow white spots on his rump has a lovely kind character and athletic ability in abundance, style, presence and charm.
This is a really genuine youngster who has been bred to jump from dam lines who boast a plethora of International Grand Prix show jumping ancestry. His sire GFS Fire and Ice adds serious eventing bloodlines and very expressive movement. This really lovely young character is very people oriented, calm, sensible and exceptionally kind and willing. I can see him turning a hoof turn a hoof to any job asked with a great attitude and offering his lucky new owner a lot of fun and a rewardng partnership.
I would expect him to attain a mature height of 16.2hh minimum ~ approx!
Reluctantly offered this year, this striking young geelding, GFS Amorino (GFS Fire and Ice, a young AES Graded stallion and grandson of the legendary Rock King X a simply spectacular KWPN mare by Al Pacino/Andiamo/Aiglon Rouge).
This handsome young gelding is rising two and currently standing at 15.2hh. Expected to attain a mature height up to and possibly in excess of 16.2hh, this charming chap is a dream to handle in all ways and displays superb manners both in and out of the stable demonstrating a calm, willing and intelligent attitude.
With a pedigree steeped in International Grand Prix showjumping royalty and top class eventers, this rather special and uniquely marked gelding will be among the first of our horses offered for consideration this year to a discerning home in search of a carefully prepared, well bred youngster with quality and potential in abundance.
Amorino is the type easy and straight forward enough for amateur as well as professional.
Photos to Summer 2017: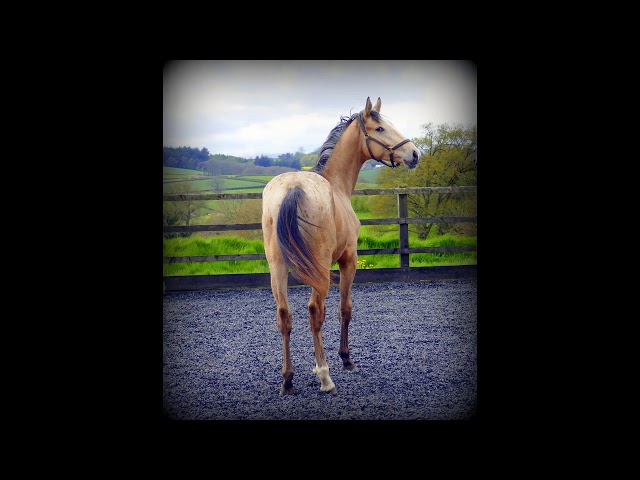 Click Here to Add a Title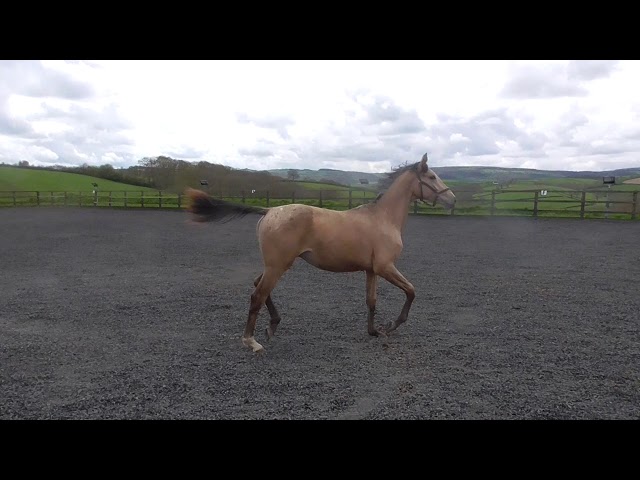 A Little about his dam line
Deihaiwejo

17.2 HH KWPN

Al Pacino W/Andiamano Z/Amino/Julio Mariner/Ramiro Z x Aiglon Rouge/Narcos II/Fair Play III/Nankin/Enrico/Fasholt

http://www.sporthorse-data.com/db.php?i=10814145&time=1339826594

Deihaiwejo is by Al Pacino W - An outstanding International Grand Pix show jumper and

son of the amazing "phenomenon" Andiamo by Animo- Almé).

Her dam lines are equally impressive with her dam sire, Aiglon Rouge a son of two of the most incredible jumpers and producers of simply incredible offspring. Narcos II and the legendry mare, Dirka - dam of Quidam de Revel, Paprika de Revel, Vallon Rouge to name just a few!

This mare, in addition to her incredible ancestry of high achieving and historically important bloodlines. She has the most wonderful character and sensible nature which she consistently passes on to her offspring. A mare of impeccable breeding, huge athleticism, movement who was bred to excel as a jumper in her own right but fate and injury has prevented this.




Al Pacino W was bred from the beautiful blood mare SATAJAVERTE (by JulioMarinier xx) who in turn originated from NATAJAVERTE (by Ramiro). His Great-grandmother ALVERIAVERTE (by Almé) is a Selle Français mare imported from France, who came from the famous Fair Play III daughter Ma Pomme Verte (who itself ran superb internationally), and after that came the "international" Douchka II (by Night and Day xx) and then Troika(by Noroit AA).

This family tree brought forth many approved stallions and international jumping horses like for example BillyVert, Souviens Toi III of R.Y. Bost, DrageeVerte (by Galoubet) of Philippe Rozier. Last February 2007, Al Pacino W (by Andiamo) finished his performances at the NRPS in a very convincing way.

Al Pacino W showed his superb qualities during his performance tests: jumping under the saddle as well as free jumping were qualified as "good", and technique, power and push off were also qualified as "good". The overall impression also scored "good", so as a whole this was judged a very strong and convincing performance for the young Andiamo son, who seems to be a copy of his father in every aspect.

Al Pacino W has been NRPS approved, and fulfils all requirements (X-ray scans, wind, sperm) for the KWPN

Andiamo Z

(G.Sire)

Because of an injury, Andiamo Z lost almost two whole years, but has since proved his quality during his preparation by Jos Lansink for the Grand Prix level, although still in the shadow of Caridor Z, Zandor Z, High Valley Z and John Z. Beginning of 2000 Jos Lansink started this son of Animo in 1.35 m classes, a few months later he upgraded to 1.40 m and he is now jumping 1.50 m classes. Andiamo Z jumps ith so much conviction that one can not help but notice him. The breeders are very glad with him because of his performance in the ring - although Andiamo Z is not OCD-free – and reward him with many bookings.

Bred by Morten Aasen out of Taj Mahal {NRPS} Studbook Zangersheide has brought in a dash of Anglo-Arabian blood via Andiamo Z. The sire of Taj Mahal x is no-one less than the Anglo-Arabian Garitchou x (by Nikou} who has provided various mares´lines with a large number of sport horses. Let us take, for example, the BWP-bred stallion Jus de Pomme, double Olympic gold for Germany and Ulrich Kirchhoff, Shogoun, Grand Prix winner under Philippe Le Jeune and Eric Navet, Quintus and Richebourg, both licensed stallions. The dam of Taj Mahal is Joyeuse by Nithard x. Other Nithard daughters haveproduced, for example, the stallion Olisoco, Grand Prix winner under the American Michael Matz, Privilege (Helmut Morbitzer}, Ronco (Bert Romp}, Quick Star (Meredith Michaels}, Inschallah x, Joad and Vetiver du Gamet (Philippe Leoni}.

Animo (GG Sire)

Animo competed consistently among the best in World Cup and grand Prix competitions in the 90's. He jumped in the Olympic Final in 1992, and was placed in 48 World Cups ans Grand Prix. As a breeding stallion, Animo boasts sons approved in numerous studbooks globally.

Alme (GGG Sire)

Almé was by the Selle Francais, Ibrahim, a stallion whose influence is still incredibly strong today. His dam, Girondine produced three full brothers to Almé, which were all licensed stallions or successful jumpers.

As a young stallion was ridden by Bernard Geneste as a five-year-old, before he was purchased and competed by American Fred Lorimer Graham for two years. He was then taken as a mount by François Mathy and Johan Heins, with whom he competed internationally. He won many Grand Prix events, including the Grand Prix of the Netherlands.

Almé had a successful career at stud, which is often compared to that of the champion Thoroughbred stallion, Northern Dancer. He first stood at stud as a five year old, serving France from 1971-1974, before standing at Zangersheide from 1975-1985. He was then returned to France, where he stood at the Brullemail stud farm until his retirement in 1990, covering 420 mares from across Europe. His stud fee during this time, after having proven himself so well, ranged from F14,000 to F20,000.

During his first 4 years in France, Almé sired the international show jumpers Galoubet, I Love You (2 time World Cup winner), and Jalisco, as well as the stallions Quick Star and Quatoubet (sire of the three-time World Cup winner Baloubet du Rouet). While standing at Zangersheide, his offspring were registered in the Hanoverian stud book, where his blood had great influence, and he also made his way into the Holstein stud books through his sons Ahorn Z, Aloubé Z, Athlet Z, and Alexis Z. His grandson, Quidam de Revel, has also been used in Holstein breeding.

Alme is the only horse to have sired 2 World Champions and 3 Olympic horses. His son, Aerobic, became the top priced horse at the PSI Auktion in Ankum (650,000 DM).

Amor

Amor was a Gelderlander stallion, imported by the Sgldt from Holstein at the age of 3. Having elite stallion Amor (1959-1991) in the pedigree is a guarantee for dressage performance, but besides this many offspring are also performing excellent in jumping and driving. The influence of Amor can still be seen in Dutch performance horses. Amor's most important son was the international Gelderlander jumping stallion Gondelier, who also passed on his talent. Amor can be found back in many international dressage horses, not to forget the international dressage star Aktion, who carries Amor's blood twice, once through the preferent Gelderlander stallion Epigoon and once through the Groninger international jumping stallion Akteur.

Julio Mariner

(GG Sire)

Believed to be on of the top thoroughbreds ever produced for breeding top sporthorses. Adding refinement, speed and intelligence.

He produced motherlines of great importance and also top competetive sons who have excelled in sport and as producers of sport horses.

Julio Mariner's showjumping qualities are confirmed by scores of products performing in International showjumping. Dinky Toy (Michael Whitaker), Harley (Bruce Goodin), Marinero (Gilbert de Rooch), Eurocommerce Lima (Gerso Shroder), Ingmar (Steve Macken) and Resolute (Molly Ashe) are just a few examples. He is also G Sire to Paul Shockemohle's Califax.

Julio Mariner xx was approved in seven studbooks, including KWPN, Holstein, Hannover and Oldenburg. He was praised by breeders for his eagerness and excellent jumping techniques and is one of the best thoroughbred sires in Dutch breeding. Indeed, technique, reflexes and alertness characterise both the jumping manners of Julio Mariner xx and those of his offspring.

Ramiro

1965-1995

Conceived in Holstein, born in Westfalia, licensed at Neum?nster, and himself an international performer under Frtiz Ligges, this stallion influenced nearly all European Performance Studbooks.

When Ramio was presented for selection, he was described as the ideal type of the modern Holsteiner - strongly imprinted by his dam, tall and elegant, showing the top line of his grandfather, Cottage Son xx, with powerful frame, a glorious face and large, clear eyes. His excellently formed neck, beautifully set, could still be seen, even when he was an old horse, and are stamped on his progeny. Ramiro displayed a very good walk, a normal trot. And a great canter - it was impossible not to be enthusiastic.

Ramiro was one of the first stallions to appear in sport. During his own career, Ramiro had numerous wins at all levels of showjumping - Nations Cups, Puissance (jumping over 2.2 meters) and in international Grand Prix competitions.

Based at the Zangersheide Stud Ramiro was presented with a selection of superbly bred jumping mares. One of the most famous was the foundation mare, Heureka. The oldest daughter of this pairing was Ratina Z who ridden by Piet Raymakers and Ludger Beerbaum, won World Cup Finals, the European Championships, the Grand Prix of Aachen, individual Olympic Silver, double Olympic Team Gold, Team Gold at the WEG, and twice team gold at the European championships. Calypso II has been one of the most important sires in both Holstein and Hannover where he bred international competitors, and influential breeding stallions.

Ramiro was the most popular distributor of the Ramzes blood and the most frequented sire in Germany. He stood at stud in Westfalia, Holstein, Zangersheide and Holland. Numerous sons and daughters conserve and pass on the valuable genes that stand for rideability and jumping talent. Therefore, it is not a surprise to find Ramiro's children and grandchildren at the top levels of showjumping and dressage.

It is simply impossible to mention all his successful progeny. From his first breeding season, came the super mare, Fatinitza, showjumping from victory to victory under Fritz Ligges and Thomas Fr?hmann, and later mother of the Zangersheide stallion, Almiro Z. Argentina Z another Heureka daughter (by Alm?) produced with Ramiro the stallion sons: Rebel I Z, Rebel II Z, Rebel III Z and Rock Z.

Ramiro still ranks number 16 on the 2003 World Breeding Federation jumping stallion rankings.

Raimond

A son of the legendary influence of Anglo Arabian stallion Ramzes. Raimond was a beautiful, muscular 16H stallion. He produced uniform and typy offspring. He produced many good broodmares with ideal temperaments. He crossed best with refined mares. He produced 6 approved sons including Ramiro and 122 approved daughters.

DEIHAIWEJO's DAM LINE

AIGLON ROUGE

16.2hh Selle Francais stallion of impeccable high performance bloodlines. Standing in Belgium this highly sought after sire of top jumping progeny is by Narcos II and out of the truly remarkable mare of world wide renown, Dirka.

Half brother to Quidam de Revel and Paprioka de Revel to namename only a few of the outstanding offspring of Dirka.

NARCOS II

Chosen to compete in the Seoul Olympics and has been a regular competitor in international competitions from Calgary to Hickstead. In 1991 he won the European Young Riders Championship. Has won numerous puissance classes which included a record jump of 2.25 metres.

This is one of the most sought after stallions in France where his offspring are now now jumping internationally. He is half brother toQuat'Sous and Vercors IV and one of his sons' is Hinault.

DIRKA

Dirka, despite being only 163 cms, won at international level with Nelson Pessoa, before being given to Xavier Leredde who made his junior international debut on her.

Returned to her breeder, Prince Amaury de Broglie, Dirka was bred to Sans Souci, to produce two international competitors, Orka and Paprika de Revel, then with Jalisco B she produced Quidam de Revel and the broodmares, Razzia and Sarah de Revel. With Jalisco's half brother, Kisosovo, she produced CSO winner, Vallon Rouge, and with Narcos, Aiglon Rouge, a star in Holland. With Quat'sous, she produced Byra Rouge, and with Pappillon Rouge, Dirka de Revel. What a mare!

ENRICO

Dam, Oilano's dam line - Kilano

Enrico is a high performance International showjumper of pure Anglo Arab Breeding. He is descended from Fast, Vadrague and Pancho, sires of numerous International Eventers, Show Jumpers and Grand Prix Dressage progeny.

FAIR PLAY III

Fair Play III, died at a young age but not before he produced a number of exceptional competitors. His legacy in French breeding is carried on by his most famous son, Narcos II, who amassed 178 victories, 567 placings and total winnings of 2.4 million Francs. Narcos II is regarded as a stallion of "high class" with numerous successful offspring, the most familiar to North American breeders being Twist du Vallon, the Horse of the Year in 1998 with McLain Ward.

NANKIN

NANKIN sired 34 graded stallions and 44 dams of stallions. He is also found in the pedigree of QUIDAM DE REVEL, bronze medal winner at the Barcelona Olympics.

GEMINI

An elite graded mare and prolific producer of top show jumpers

QUASTOR

A hugely popular and successful Selle Francais stallion and son of the legendry Ibrahim. His G.dam, Girondine was a daughter of the Irish bred Thoroughbred, Ultimate, and as well as Almé, she also produced his three full-brothers, all licensed stallions or successful jumpers. Her daughter, La Citadell (by Jus de Pomme) was bred to Ibrahim to produce three top stallions: Espoir (sold to Spain), Gibramino (sold to Belgium) and Quastor (sire of Fairplay III, dam sire Quidam Junior) who stood at St-Lô.

TANAEL

Owned by Haras Nationaux, this highly valued son of the outstanding Ibrahim has been a consistent producer of elite showjumping progeny and also dressage horses.

FRA DIAVOLO

(1938) (Left) by Black Devil out of Frayeur, by Blandford, also stood at Saint-Lô, beginning in 1945. His main influence is through his Anglo-Norman sons Herquemoulin (1951) and Nankin (1957). Nankin in particular has established a strong Selle Français bloodline. Fra Diavolo was inbred 3 x 4 to Dark Ronald, through his American grandam La Palina on his sire's side, and his German grandam Freia III through his dam.

IBRAHAM

Born 1952 Died 1973 Height 163cm Breeder René Haize

Ibrahim is again one of those stallions who was shunned at first, only to become hugely popular far too late – in his case, after his death. Born in 1952, Ibrahim is out of Vaillante, and by The Last Orange (born 1941), another sire initially shunned by breeders.

Here again, we find the hand of the master breeder, Alfred Lefevre at work. In his tribute to Ibrahim in Breeding News September, 1999, Pascal Renauldon tells the story:

"Who else but the almost legendary horse trader Alfred Lefevre was the first to discover Ibrahim? But even this man, who could smell a good horse a mile away, had no idea that the animal would become one of the greatest sires in the history of horse breeding when be bought the colt from his breeder René Haize for 500 francs ($80). The transaction took place at the local in-hand show in Caen, where Ibrahim's dam Vaillante claimed a ribbon."

"Ibrahim, born in 1952, n 1970 Ibrahim progeny were the stars at Fontainebleau when his four year olds dominated the jumping finals: Alcazar D, Aurore C, Azimut, Arteban and Almé – while the five year old class was won by the mare Val de Loire B.

He had more than 30 stallions in France and elsewhere and dozens of international winners. He also had a lot of glorious broodmares as daughters and it was incredible to see them all lined up in a row during the broodmare competitions.

The breeding of Ibrahim with the daughters of the Thoroughbred, Ultimate was truly miraculous. It was from this marriage that the best products were born. Almé is the best example.

Some of his best stallions were : Almé, Digne Espoir (Kibrahim), Double Espoir, Elf III, Quastor, Dynamique, Ukase, Tanael, Cor De Chasse in France, Fantastique, Hedjaz in Belgium, Viveur, Que D'Espoir (Switzerland)

In CSI, his best products were : Norvale, Quo Vadis, Orsietain, Tango C (1st Berlin Grand Prix ), Taxi De Sartilly, Uri B, Varin, Val De Loire B (Olympic Games, Montreal, Horse of the Year USA), Valacampagne, Alcazar D, Artaban, Bavolette, Denis de Vauptain, Iman d'Or …

Ibrahim was classed 1st in the list of French Stallions producing winners in CSO in 1970, 1974 & 2nd in 1971, 1972, 1973 & 1975.

Even today the influence of Ibrahim is strong. In the six year old finals at Fontainebleau in 2002 an analysis of the 20 top stallions (ie. those with at least 3 horses in the event) shows Ibrahim blood in 15 of the 20, especially through Almé but also Jalisco!

FURIOSO

One of the most influential thoroubred sires in modern sport horse breeding. He sired World and Olympic champions and stallions.

The Mezohegyes stud farm was founded in 1785 by the Emperor of Austria and the King of Hungary, Joseph II, and quickly gained a reputation as one of the best breeding centers in Europe. The Furioso or Furioso-North Star developed there in the 19th century as a result of crosses between the stud's base stock, which was primarily Nonius mares and two imported English Thoroughbred stallions, Furioso and North Star. Furioso, who was imported in 1841, sired 95 stallions who were instrumental in the progressions of the breed. North Star, who was imported in 1844, came from an illustrious background which included some Norfolk Roadster blood. He was the grandson of Touchstone, winner of the 1834 St. Leger, and twice winner of the Ascot Gold Cup. On his mother's side, there were connections to Waxy, winner to the 1793 Derby, and to the famous Eclipse.

PRECIPITATION

Precipitation is the legendary sire of the stallion 'Furioso' which has been so influential in modern warmblood breeding. He is also in the pedigrees of the greats like 'Agricola' and 'Balmoral Boy'

He is perhaps the most influential sire of all, and while his influence on jumping horses has long been recognised, some of the most exciting dressage horses in the world today trace their ancestry to this great sire.

As with most great horses, the story starts with an exceptional mare, in this case Double Life, the foundation mare of one of Britain's most famous studs, Someries Stud near Newmarket. Double Life was a wiry, insignificant looking, washy chestnut with a plain head, and she never measured more than 15.3 hands. She was a good racehorse, an even better broodmare. She had eight foals, the second of which was the chestnut colt, Precipitation, born in 1933. Precipitation's sire, Hurry On, was coming to the end of his life, but in the 1920s he had sired three English Derby winners. Precipitation won seven races for ?18,419 in stakes. At stud, he was a huge success as a sire of racehorses but more importantly for our story, several of his sons became enormously influential performance horse sires.

COTTAGE SON

In addition to outstanding jumping ability, Cottage Son endowed his offspring with superior stamina. Although his individual talents were undiscovered due to an injury sustained in his very first race, he was a successful steeplechase and eventing influence. But this alone was not enough to thrust him into the Internationally renowned company of Furioso and Rantzau…

During the 1950′s, in the Holstein region of Germany, Sport Horse breeding experts turned to the Thoroughbred. Although Cottage Son did not meet any of the racing criteria, nor did he meet any of the German qualifications, they quickly discovered that the influence of Cottage Son combined with the horses of that region was simply remarkable.

Cottage Son was born in 1944. He was a descendant of the great Bay Ronald on his sire's side, and on his dam's side, descended from the great steeplechase sire, Cottage. Cottage Son, a brown horse, standing16.3 hands high, produced 14 stallion sons and 42 approved daughters, in Dressage, Showjumping, and Eventing. As a broodmare sire, Cottage Son was a sensation, siring the dams of two of the all time greats of modern jumping, Lord and Ramiro. His son Consul was the sire of the World Champion Dressage horse Granat. His great grandson, Capitol, would secure his place in breeding history. His influence on the modern Showjumper is nothing short of legendary.

Nine of the thirteen medalists at the 2006 World Showjumping Championships that took place at Aachen, were direct descendants of the Thoroughbred, Cottage Son.

PLEIN D'ESPOIRS

An important sire of showjumpers and son of the legendry Orange Peel.

Deihawejo has three important crosses to Orange Peel.

ORANGE PEEL

Twenty-six of the top 100 show jumping sires of the 1990s descend from him, and ten members of this select group are in-bred or linebred to him, including Jalisco B (1975), Major de la Cour (1978) and Narcos II (1979). He stood at Saint-Lô fro

0

/